Citizenship
Contributing to community life is key to being a good neighbor—a value that runs through University history and continues to propel the University of Rochester today. Faculty, staff, and students put their time, their ideas, and their donations toward efforts to make our community a strong and healthy one, with better opportunities for all.
The University is the first college in the country to have developed a community service component for its fall orientation for new students—an innovation that earned the attention of Time magazine. For eighteen years, students, staff, and faculty have participated in Wilson Day, when more than 1,000 students each year are placed at some 60 community agencies in the city of Rochester. Last year University students also participated in Be the Change Day—250 undergraduate students volunteered for the Clean Sweep in Sector 4, a program run by the Mayor's Office of Volunteerism and the NET office.
Citizenship : Connected
University employees have pledged $1,242,970 to the United Way/Red Cross Campaign in 2006
About 60 percent of undergraduates take part in community service, providing a collective 30,000 hours of service per year
About 60 percent of children enrolled in programs at Mt. Hope Family Center showed improved function in areas such as cognitive achievement and socioemotional development; 100 percent earned improved educational screening scores
The University's Visiting Nurse Service runs the third oldest Meals on Wheels program in the country and provides nearly 330,000 meals each year
Last fall, the University took part in the Mayor's Literacy Summit to help formulate a community-wide action plan to advance literacy and to identify and develop partnerships that will enhance local literacy programs.
In the 1870s, Rochesterian Hiram Sibley presented the University of Rochester with its first library building. He offered his gift on the condition that the library would be open to all Rochester citizens. It is a pledge that the University continues to honor today.
The University provides up to $80,000 in scholarships annually to support five Hillside Work-Scholarship Connection students. The program—which serves students in Rochester and Syracuse—aims to increase the graduation rates of students in the city school district by providing long-term advocacy, academic resources, life skills development, and job training. It assists students who enroll in seventh to ninth grades and provides long-term, comprehensive support services for home, school, and work through high school graduation and for two years beyond.
University faculty and staff support the United Way/Red Cross Campaign each year. In 2006, employee contributions totaled $1.2 million. Those contributions are just one indicator of the University of Rochester's dedication to making a difference in the community.
Seeds for the Future
In summer 2005, Ayala Emmett, associate professor of anthropology, agreed to run a weeklong writing workshop for urban youth at the North Street Community Center. Their exuberance for learning moved her, and that limited commitment grew into the Seeds for College Foundation. The foundation—a collaboration among the University, the North Street Community Center, and Rural Opportunities—encourages inner-city minority students to go to college. For each year the students, ages 12 to 16, earn good grades, the foundation deposits $100 into their individual funds for college. The students come to campus for workshops and classes so college life becomes a real, attainable goal. "I wanted to give them what I call their birthright," Emmett says, "to be prepared throughout their educational experience to go on to higher education and find their rightful place in society."
Keeping Graduates, Serving Youth
The University of Rochester has joined with Roberts Wesleyan, SUNY Geneseo, and the Rochester City School District to form a regional network that creates a unique one-year program to retain Rochester's college students and provide support for local nonprofit agencies.
Through the Rochester Youth Year Fellowship recent college graduates take an active role in the community while increasing the number of outlets for Rochester's urban youth. ROC City Coalition and Rochester Business Alliance have agreed to include the college students in their networking events to further engage these recent graduates. In addition, the fellows will help run a course on leadership that will introduce local college students to community leaders in business, education, and health care.
Community agencies such as the Rochester Mayor's office, Biz Kids, Puerto Rican Youth Development, Garth Fagan Dance, Quad A, and the Rochester City School District have expressed interest in hosting a fellow.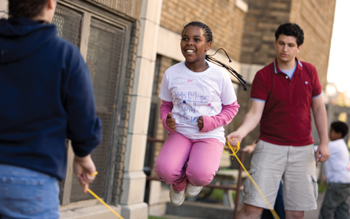 Mt. Hope Family Center
A Vital Safety Net
Mt. Hope Family Center listens to young people with an ear trained to hear what's happening in their lives. Children and pre-teens express themselves through play, conversations, and therapy during any one of a dozen programs based at the center in the Corn Hill neighborhood. Since 1979, Mt. Hope has assisted thousands of families with treatment, intervention, and training.
The center is supported through grants, gifts, and contracts for services and stands as an independent unit of the University's Department of Clinical and Social Sciences in Psychology within the College of Arts, Sciences, and Engineering. The staff of 70 includes psychologists, therapists, social workers, researchers, and graduate and undergraduate students.
"Mt. Hope is committed to bridging the latest findings from research and best practices. All interventions provided at Mt. Hope are theoretically informed and evidence-based," said Sheree Toth, executive director of Mt. Hope Family Center and associate professor of psychology.
Each family situation is unique and guarded by confidentiality. Some children deal with excessive conflicts at home, others may witness violence or lack food and clothes.
People who walk through the doors of Mt. Hope get direct help while they contribute to research that solves problems bigger than what one family faces. Financial support from private sources and government agencies allows Mt. Hope researchers to inform public policy, improve interventions for people in need, and increase understanding of the interrelationship between psychological and biological processes in human development.
At its core, Mt. Hope is a safety net for families who want support and new beginnings.
Changing Lives
Through the Urban Fellows program, University of Rochester students are working in area community agencies, studying urban issues, and meeting with local leaders, all in an effort to contribute to the Rochester community.
"I used the Internet and in-person interviews to research best practices and inventory literacy programs," senior Eric Snider, an Urban Fellows intern in the office of Mayor Bob Duffy, told an audience at the fellows closing exercise in August. "One of the things I learned is the value of getting books into children's homes."
Snider's research, which included troubling numbers on the high percentage of illiterate adults in Rochester, helped prepare Duffy's staff for the Literacy Summit in Rochester last fall.
Eighty-five college students—about one-half from the University of Rochester—have served at least 30 different organizations since Urban Fellows began in 2002. Run by the local nonprofit Leadership Rochester with the College of Arts, Sciences, and Engineering, Urban Fellows is a collaborative effort funded by Rochester Area Community Foundation, Ewing Marion Kauffman Foundation, and City Hall. Students from Rochester-area colleges mix with those who are Rochester natives but attend college elsewhere.
Their contributions have produced policies to prevent lead paint poisoning, an education initiative about juvenile diabetes, and two block watch programs, among many others. Urban Fellows earned a 2006 Division for Youth Serv-ices Award and a Friend of Leadership Rochester Award, and a 2003 19th Ward Neighborhood Association Community Partner of the Year Award.
Like Snider, Mary Ault was selected as an Urban Fellow. After graduation from the University in 2005, Ault postponed plans for graduate school. Instead she took a job with Leadership Rochester to coordinate the Urban Fellows program and work with Rochester's emerging leaders, educating them on a range of community issues.
"It's all a journey," says Ault. "Urban Fellows changed my entire view of Rochester and what I wanted to do with my life."