Education
Education is at the heart of the University's mission, and efforts reach far beyond its campuses. In partnership with teachers, parents, students, and community organizations, the University is expanding, enriching, and supporting education in our region.
For the past two decades, the Warner School of Education has collaborated with local school districts—urban and suburban—in the research, selection, and implementation of high-quality math curricula. During this time Warner has received eight grants, totaling $5.7 million, which have helped the school to develop its mathematics outreach with a regional focus. Each new grant that Warner applied for was prompted by local teachers and administrators asking for more ongoing support.
Education : Connected
The Warner School Mathematics Outreach Program has in the last decade provided more than 4,000 hours of professional development programming to more than 2,000 teachers
1,700 children have taken part in ScienceStart! over its six years, and 1,800 families have participated in the family literacy component of the program
31 percent of Warner math and science graduates in the last three years have gone on to teach at urban and high-needs schools
60 students participated as Jumpstart volunteers for 2006–07
About 1,000 Rochester-area students are full-time undergraduates in the College of Arts, Sciences, and Engineering
More than 1,500 students have enrolled in non-credit adult enrichment programs in the last three years
All across the country, educators are considering how to increase student achievement in science—and how to make sure that girls, as well as boys, know they belong in science classrooms and labs. In Rochester, thanks to teamwork by the University and other groups, programs for students from preschool to high school and beyond address just such needs.
Each summer the Laboratory for Laser Energetics holds an eight-week research program for highly motivated high school students. The Department of Physics offers programs for K–12 students and teachers, and the Institute of Optics offers an optics summer school open to anyone with an undergraduate degree. The Life Sciences Learning Center at the Medical Center is a science education laboratory working to increase young people's interest in science and raise public awareness of benefits from science and research. The center's two laboratories give students experience with state-of-the-art biomedical research equipment. The center also offers a Summer Teacher Institute and professional development workshops. More than 6,000 students and 250 teachers from area schools have participated in the center's programs.
Programs in science are just the beginning. Through Rochester Scholars, Rochester Scholars Jr., and Rochester on Campus, high school and middle school students can take college courses and even find out what living on campus is like. Almost 2,000 students have enrolled in these programs over the past three years. A yearlong, project-based program, the Young Entrepreneurs Academy, gives students hands-on experience with entrepreneurship.
There are opportunities for adults and seniors, too. Always Better offers non-credit adult learning programs, and yoUR Experience Highlands at Pittsford provides enrichment education for residents of this local retirement community.
The University also takes part in community efforts to tackle challenging problems in urban education. The Urban Teacher Leadership Academy—co-funded by the Rochester City School District and Warner—is a new program that helps teachers become leaders for equity-based educational practices and improvements in the city school district. The Saturday School, created by medical students and funded through an AAMC grant, helps more than 100 inner-city students at risk of failing. Every Saturday morning, medical students provide two hours of one-on-one tutoring in core subjects such as math, science, and reading.
A community's success depends on the education of its people. Through efforts to support and improve learning, the University, community groups, and residents are working for the future in Rochester.
Sparking Wonder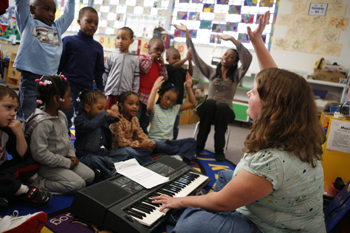 ScienceStart!
A recent $3.8 million grant has created a partnership between Warner and the Rochester Diocese Catholic Schools to establish Rochester preschools as centers of excellence. Funded by the U.S. Department of Education's Early Reading First program, the ScienceStart! curriculum capitalizes on children's natural curiosity about the world around them and uses science as a vehicle to develop their language, literacy, and school readiness.
Preschoolers in the ScienceStart! curriculum have made significant gains in language skills, particularly in vocabulary acquisition and the ability to give explanations. They have also notably advanced their knowledge through a scientific approach of raising questions and investigating possible answers.
"I have seen the Science-Start! curriculum develop a keen interest in the world around us and a recognition that everything in our world is truly science," says Kathy Dougherty, principal at Cathedral School at Holy Rosary. "ScienceStart! is a natural immersion into the world of science—our world—without the fear that's occasionally associated with 'science.' The program uses hands-on materials to develop the themed unit, thus creating an exciting learning environment for preschoolers."
Last summer, students from the St. Monica School's summer program in the 19th Ward came to campus for a day of fun and learning. ScienceStart! staff and a St. Monica teacher used campus features to teach preschoolers a number of concepts, including color and light (from the stained glass chapel windows), movement and machines (from the parking meters and construction vehicles), and mapping and measuring (by jumping distances at the running track).
The ScienceStart! staff has worked with nearly 50 teachers in urban, suburban, and rural classrooms, 90 paraprofessionals, and four principals in the past six years. During this time, 1,700 children have participated in the program and 1,800 families have taken part in the family literacy component of ScienceStart! The program has also provided more than $500,000 in books, supplies, and equipment to Rochester-area preschools.
The Power of Words
Teens have important things to say about the world in which they live, and the Poetry Slam is giving them a platform from which to speak. The Warner School of Education is collaborating with three urban high schools in Rochester—School of the Arts, Wilson Magnet, and Edison Tech—and performance poet Reenah Golden to introduce students to spoken poetry as a literacy practice that combines performance, politics, and cultural change.
"I am endlessly astonished by the power of teenagers' words," says Joanne Larson, Michael W. Scandling Professor of Education, who helps direct the Spoken Word Poetry Project for Warner. Students and teachers explore the place of poetry in urban culture and the larger society, and the ways poetry and other forms of communication evolve.
This project takes full advantage of the rich literacy resources and life experiences urban teens bring to their schools and gives youth safe and effective ways to express their views on issues such as poverty and violence in their communities. "There is a way in which many urban teens are disconnected from their schooling," explains Larson. It's as if they are crying out to us, 'I have something to say, and you aren't listening!'"
"The danger for a classroom teacher is that you get in a cozy space and aren't challenged to think outside the box," explains Tom Painting, an English teacher at the School of the Arts. "Students rise to the occasion when their knowledge is validated. The University came to me with an exciting idea and new material and has helped me to think about how to use it, assess it, and tie it into the curriculum."
With funding provided through an Edith Glick Shoolman Children's Foundation grant, and a new collaboration with Rochester's Writers and Books, the world of performance poetry and poetry slams is taking root in Rochester's schools.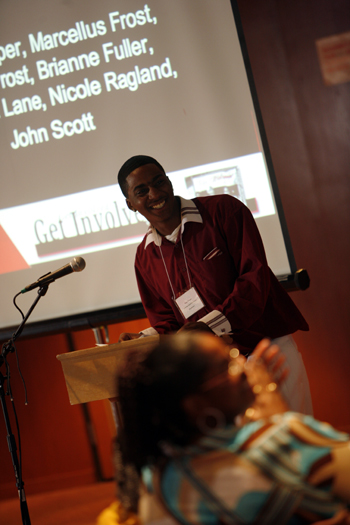 RASA Youth Impact!
Making an Impact
The RASA Youth Impact! program, directed by faculty and students at the Warner School and sponsored by the Rochester After School Academy, has collaborated with a team of 18 area high school students to design and implement community-based research projects on issues important to them.
"Looking at Rochester from the perspective of youth and focusing on our well-being is a great start to understanding what's really going on in the community," says Amarili Wright, a student at Edison Tech High School. "This research gives us a chance to put some real information out there and improve our community."
Youth researchers met every other Saturday for six months to analyze and collect data on issues, including safety and the youth curfew, job availability, urban school resources, parent and community involvement, and alcohol, tobacco, and drug awareness and prevention. Based on their research projects, youth devised recommendations—both for themselves and for the broader Rochester community.
New Scientists
Science STARS is a club for middle school girls that involves them in scientific investigations and helps them discover how science is important in daily life.
Last fall 22 girls from Wilson Academy took part in Creativity Counts, an after-school Science STARS program. Hands-on scientific investigations helped them to answer questions important to them: the food sources that attract butterflies, the exercise benefits of step dancing compared to basketball, and the effect of fake nail tips on nail growth, to name just a few.
"Just like the kids I can't wait for the STARS program to start again in the fall," says Rochester science teacher Tatjana Ravnik. "The program provided an amazing opportunity for the girls to feel they can still be interested in science. By the end of the course it was clear that they felt empowered and confident enough to present their experiments in front of a room full of unfamiliar faces."
Learning One-on-One
Jumpstart—a national nonprofit organization that connects thousands of members from colleges and universities with nearly 12,000 children nationwide—is helping University of Rochester students become mentors to children in Rochester's city schools.
More than 60 Jumpstart members at the University of Rochester each dedicate at least 10 hours a week to attending team meetings and working one-on-one with a child to improve literacy, language, and social skills. The number of students supported has nearly tripled from past years.
In addition to serving the community, Jumpstart members also earn a work-study stipend and expand their career opportunities following graduation. Many of them go on to pursue a career in education. Rochester native Patti Watters graduated from the University in 2006 and now works for Teach for America in New York City—but says she wants to come back home to help educate Rochester's children.