Health
When he made his gift to found the School of Medicine and Dentistry in the 1920s, George Eastman directed the University to make Rochester the "healthiest community in the nation." Today, community health is a central mission of the Medical Center, alongside research, patient care, and education.
Health : Connected
More than 120 community health programs
More than 90,000 people served, through community health programs
More than $46 million in care provided for the uninsured and underinsured in the community
More than 70 community partners, including longstanding relationships with the Rochester City Schools and the Monroe County Department of Public Health
More than $10 million in funding from government, foundations, and other sources, including $3 million contributed directly by the Medical Center
The University works in partnership with other Rochester-area organizations to address community medical concerns ranging from immunization rates to pediatric care convenient for working parents.
Each time patients visit a doctor's office in the Rochester area, they are likely benefiting from the University's service to the community: there are about 2,500 alumni of the School of Medicine and Dentistry in the local region.
An extensive network of patient care, education, and research programs serves the community through the University's Medical Center and Strong Health. Together they encompass Strong Memorial Hospital, the School of Medicine and Dentistry, the School of Nursing, the University of Rochester Medical Faculty Group, the Eastman Dental Center, Highland Hospital and its affiliates, and the Visiting Nurse Service.
The Medical Center is a regional destination for specialized medical care, offering advanced clinical services such as pediatric heart surgery, organ and bone marrow transplantation, total joint replacement, neonatal care, neurosurgery, severe burn treatment, and many subspecialty faculty practices.
In addition to being the region's leading health care provider, the University also has a long history of developing programs that address important, and often unmet, health problems in the community. In 2006, the Medical Center renewed its commitment to community health through the creation of the Center for Community Health. This center will build stronger partnerships, support faculty efforts to develop innovative new programs, and integrate community health across the Medical Center's missions.
The University trains medical professionals who not only are dedicated to clinical and scientific excellence, but also have developed the compassion, understanding, and reflection that comes from exposure to cultures and surroundings different from their own. Over the years, the medical school has developed strong relationships with dozens of local organizations through its Students of Rochester Outreach and Community Health Improvement Clerkship programs. These links have not only supplied these organizations with committed student volunteers, but in some instances have resulted in the creation of programs with a significant community impact. A prominent example is the student-run health center for the uninsured at St. Joseph's Neighborhood Center. The program, UR Well, has received national recognition for its efforts.
The breadth of medical programs in the community touches people in every phase of life—and strengthens the ties that hold our community together.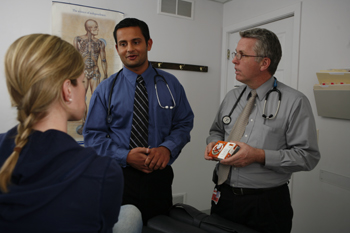 UR Well
Reducing Immunization Disparities
Across the country, African Americans over the age of 65 and living in a city are 40 percent less likely to receive an annual flu vaccination than their white peers in the suburbs. Disparities in immunization rates—which break along racial, ethnic, class, and urban/suburban lines—are critical and persistent public health problems facing our nation. These discrepancies have significant public health consequences: pneumonia and influenza together are the fifth leading cause of death among people 65 and older. Nationwide, complications associated with influenza result in 36,000 deaths each year and more than 112,000 hospitalizations. Children who are behind in immunizations are also often behind on regular checkups, screenings, and other primary care services.
The University of Rochester, in cooperation with Monroe County and many community partners, has been at the forefront of national efforts to eliminate these disparities. In 1993, the Department of Pediatrics created the Primary Care Outreach Program which focuses on vulnerable children up to two years of age who reside in the city of Rochester and the surrounding rural counties. The program provides a community-wide reminder, recall, and outreach system focusing on vaccinations. Getting children to their doctor's office for shots is just the first step. Once there, they can receive other necessary preventive care and screenings. In 2002, Rochester was chosen as one of five sites across the country to implement the Racial and Ethnic Adult Disparities in Immunization Initiative (READII). READII adapted the childhood outreach model for African American and Hispanic adults served by inner-city health centers.
Collectively, these programs have essentially erased the disparities between white and minority and inner-city and suburban populations in Monroe County. Rochester now has one of the highest immunization rates for children and the elderly in the nation, and our success has created a model for other communities.
Getting the Lead Out
Lead poisoning is probably the greatest environmental health threat facing children in Rochester. Virtually all of Rochester's housing stock was constructed prior to the ban on lead paint, and almost one out of every four Rochester children has elevated blood lead levels—ten times the national rate.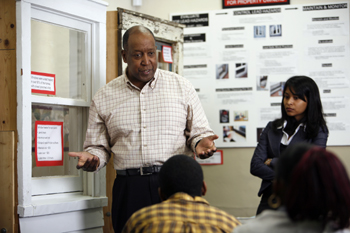 Healthy Home
Lead poisoning poses a tremendous health risk for children. Even low levels of lead are harmful and are associated with decreased intelligence, impaired neurobehavioral development, decreased growth, and impaired hearing. While lead poisoning is preventable, its health effects are irreversible.
The University was instrumental in assembling a broad community partnership whose goal is to make Rochester "lead safe" by 2010. In 2003, the University's Environmental Health Sciences Center helped launch the "Get the Lead Out" (GLO) project, which began with at-home risk assessments and lead safety demonstrations in an inner-city neighborhood. These efforts led to the creation of a temporary "lead lab" in an abandoned home to demonstrate to elected officials, contractors, landlords, and local residents the hazards of lead and the effectiveness of simple, low-cost protective measures. The University also helped organize a community-wide "Lead Summit" to galvanize efforts to change city housing policies.
These years of outreach, research, and advocacy culminated in a groundbreaking lead hazard control ordinance that was implemented by the City of Rochester last year. This historic measure, which requires the landlords to make rental properties lead safe, is a successful example of how broad community partnerships can bring about changes in policy that improve health.
To assist with the implementation of the new ordinance, the University partnered with the SouthWest Area Neighborhood Association and the Rochester Fatherhood Resource Initiative last year to create the "Healthy Home," a model home in an inner-city neighborhood with one of the highest rates of lead poisoning. The home is staffed by neighborhood high school students, medical students, and community volunteers and helps educate city residents about lead abatement and other environmental and safety hazards.
Spreading Bright Smiles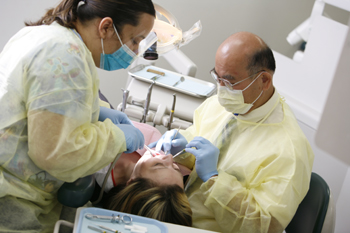 School 17 Dental Clinic
Oral health is a major health problem for children living in poor inner-city and rural communities. Former U.S. Surgeon General David Satcher, a University of Rochester alumnus, described dental and oral diseases as a "silent epidemic" disproportionately affecting America's poor. Research links chronic oral infections with diabetes, osteoporosis, heart and lung conditions, and adverse pregnancy outcomes. It is also known that tooth decay affects academic performance, as oral health problems are among the leading causes of absenteeism from school; nationwide, children with dental problems miss almost 52 million school hours annually. In Rochester, an estimated 23 percent of kindergartners have never visited a dentist.
The University of Rochester's Smilemobile program, a dental office on wheels, brings oral health services year-round to children who would otherwise not have access to much needed dental care. The program was founded in 1967 through community collaboration with the Monroe County Dental Society. Less than two years later, the University of Rochester's Eastman Dental Center agreed to assume responsibility for the program. Today, through the operation of three fully equipped dental vans, culturally diverse dentists, hygienists, and dental residents provide comprehensive oral healthcare for children and teens.
The program consists of three mobile units (a fourth unit will begin operation in the next year or so) that rotate between inner-city elementary schools during the academic year and rural locations during the summer. On an annual basis, the three units provide services to 2,700 children and teens. The Eastman Dental Center also runs six outreach clinics located throughout the inner city, including one built adjacent to an elementary school, and one rural clinic.
The results make a profound difference in a young child's life. In the words of one parent whose child was treated by the Smilemobile, "I had never seen her smile with beautiful teeth! When I saw the beautiful work that had been done, I cried. She would no longer be ashamed to show her teeth!"
Outreach and Support
The Department of Psychiatry developed Project Link to treat people with severe mental illness who have become entangled in the criminal justice system. Jails and prisons have become the final destination for the mentally ill in our society. Project Link enrolls people coming out of jail or inpatient hospitalization who have chronic mental or substance abuse disorders. Through aggressive intervention and care, the program seeks to help them move to a stable environment and reduce the incidence of re-incarceration. The program—which works closely with law enforcement, judges, and parole officers—has shown unprecedented success in treating such patients. Project Link has resulted in a significant reduction in the cost of services for individuals enrolled in the program.
The University also contributes to the early detection of cancer, a critical element in successful treatment. Created in 1993, the Women's Health Partnership (WHP) is a unique University-supported program that consists of more than 40 community-based organizations and more than 100 health care providers. In tandem with community partners such as the Highland Hospital Breast Care Center, WHP works with uninsured women to make certain that they understand breast, cervical, and colorectal cancer risks, get regular screenings, and receive necessary diagnostic follow up. Last year, the program provided screenings to more than 2,300 uninsured women. The James P. Wilmot Cancer Center also conducts annual prostate and skin cancer screenings that are open to the community.
Since 1988, the Baby Love program has been providing home visits to at-risk mothers and newborns. The City of Rochester has some of the highest rates in the nation for children living in poverty, risk factors for poor birth outcomes, and infant mortality. Baby Love monitors and helps guide mothers through their pregnancy and into the first several months with their new babies, giving them the support and resources they need—and often lack in their home environment—to ensure that their newborns are on the path to good health. The results have been impressive. Working closely with the Monroe Plan for Managed Care—a local health management organization that primarily serves low-income individuals and the working poor—Baby Love has reduced neonatal intensive care unit admission rates by more than 60 percent.
Tools for Better Living
The Health-e-Access program uses technology to connect sick children at schools and day care centers with their doctors for speedy diagnosis and treatment. With the help of high-quality videoconferencing, digital medical cameras, and other diagnostic equipment, physicians can make medical evaluations for a broad range of problems and discuss treatment options face-to-face with caregivers and patients who may be miles away. The service is a boon to working parents, who can secure prompt medical attention for their children and still put in a full work day—a necessity for many inner-city families. The technology is also being used by dentists to spot and help prevent certain tooth decay from plaguing inner-city children.
The Healthy Living Program is a unique, grassroots approach to preventive health care. Operated in cooperation with the Monroe County Health Department, the program targets adults and older residents in the Southwest and Northeast quadrants of the city—the areas of Rochester's most pronounced health disparities. In coordination with local churches in the African American faith community, the program helps congregation members to make lifestyle changes that affect obesity, heart disease, diabetes, and hypertension. The twelve-week program provides participants with health screenings and assessment, health education, counseling, and physical activity. Church pastors and congregants provide support and encouragement. Well over 1,000 people and 50 churches have been involved to date. In 2005, the program was recognized by the U.S. Department of Health and Human Services as an innovative approach to prevention.
The School of Nursing, in collaboration with the Rochester City School District, operates a school-based clinic at East High School providing students convenient access to medical and mental health services. The clinic's new iKnow computerized health kiosk enables students to monitor their weight and blood pressure and gives them valuable wellness tips. The program combines three key components for helping overweight teens adopt healthier habits—technology, education, and self-management. "The high cost of nutritious foods versus less expensive calorie dense foods, the lack of access to safe neighborhood recreational facilities, and barriers to accessing health care, all combine to create a perfect storm for many overweight teens and their families," says Kim Urbach, MS, PNP, clinic director. "The kiosk has been particularly successful because it's fast, it's private, and it's fun and easy to use for technology-savvy teens."