Giving to the University of Rochester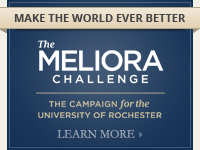 If there is anything that surpasses the pleasure of giving, it lies in knowing how much the gift means to the recipient. Your generous support affects people's lives in a direct and immediate way, whether providing financial aid to attract and retain the brightest and best students from all backgrounds, health care for uninsured patients, or funds that enable a researcher the means to develop therapies to aid people in our community or across the world. In this challenging economic time for our nation, your gifts are especially important and make a real difference in the lives of those the University serves.
Donors who support the University of Rochester or one of its schools or units share a common characteristic—the desire to make a difference. Let some of our recent donors explain their commitments to the University in their own words.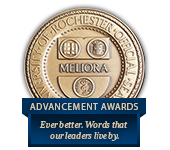 University Advancement is dedicated to building on and growing the visionary philanthropic commitment of George Eastman, the transformative vision of President Rush Rhees, and their countless, dedicated successors in making one of the nation's finest research universities "ever better." The University of Rochester makes important contributions across a broad range of endeavors and is strengthened by the alumni, parents, and friends who join us as partners in our service to the community and world.

There are many ways you can make a difference through your support. We invite you to explore the ways to get involved and join us.
Click the link below to see what your support makes possible everyday.
A Day in the Life of U of R