Calendar
10/20 to 10/31 Undergraduate program advising in the College.
11/3 Undergraduate registration begins.
11/17 Last day to declare S/F or withdraw from courses for undergraduates in Arts, Sciences, and Engineering.
11/26 Thanksgiving recess (11/26 - 11/30) begins at noon.
12/3 Last date for first-semester freshmen and transfer students in the College to declare the S/F option.
Spotlight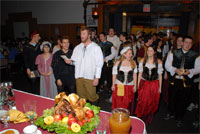 Boar's Head Dinner
One of the University's oldest and most beloved traditions, the Boar's Head Dinner began in 1934 and is held annually in December. The dinner recalls the spirit of English court dinners, such as those served at Queens College, Oxford University, during the Middle Ages.

Learn more »