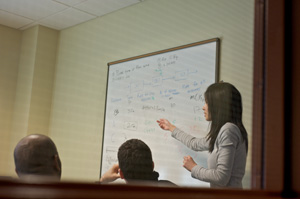 Center for Excellence in Teaching and Learning
Our goal is to promote excellence in both teaching and learning through a range of programs for faculty, graduate students, and undergraduate students.
CETL offers College faculty a series of workshops, a consulting service, a mini-grant program, and a repository of resources about designing, teaching, and evaluating courses.
Our program provides graduate students in the College with resources to support their work as classroom TAs, laboratory TAs, and instructors. Graduate students are also welcome to make use of services that support their own learning.
CETL supports undergraduate students in the College with services that promote academic success, including course-specific collaborative Workshops and study groups, study skills support, a study skills course, and disability support.
News and Events
Writing & Speaking about Research (WSR): Conversations about Teaching & Learning
"From Reading to Writing: Reading Like a Researcher," the first in a series of faculty conversations about the intersections among research, writing, and teaching, is scheduled for September 26th from 3:30-5:00 pm in Rush Rhees Library's Gamble Room. Panelists Sue Gustafson (German), Stuart Jordan (Political Science) and Dan McNabney (Biology) will initiate a broader conversation on this theme by sharing their key practices on how they read a scholarly article and how they help their students interact successfully with scholarly readings. This event is sponsored by the Writing and Speaking about Research (WSR): Conversations on Teaching and Learning group, a new collaboration between the Center of Excellence in Teaching and Learning (CETL), the River Campus Libraries (RCL) and the Writing, Speaking and Argument Program (WSAP).  More information and RSVP (by September 19th).
Methods of Inquiry Course Offered in Two Sections this Fall
MW 6:15 - 7:30, taught by Ali Safivand, Lattimore 431, October 15 - November 24
and TR 4:50 - 6:05, taught by Robin Frye, Dewey 4-162, October 16 - November 25
Learn more about Methods of Inquiry and CETL's study skills program
NEW: College Tutoring Program
Individual tutoring is now available for a variety of subjects through the College Tutoring Program in CETL. Walk-in tutoring hours are also available on Sunday evenings from 7-9 in Dewey 1-160A & N for CHM 131 and BIO 110. Learn more
Announcing the First-Ever University of Rochester Disability Studies Cluster Symposium
Complicating Normalcy: Disability, Technology, and Society in the Twenty-First Century
Friday, November 14, 2014, University of Rochester School of Nursing
Learn more at warner.rochester.edu