Calendar
9/29 last date for students in the College to drop/add courses (via drop/add form).
10/13 Fall term break (10/13 - 10/14) begins.
10/20 to 10/31 Undergraduate program advising in the College.
11/3 Undergraduate registration begins.
11/17 Last day to declare S/F or withdraw from courses for undergraduates in Arts, Sciences, and Engineering.
Spotlight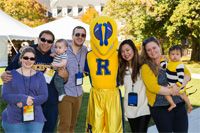 Meliora Weekend 2014
Celebrate class reunions, family weekend, and homecoming activities with a range of programs. The event is open to alumni, parents, students, faculty, and friends of the University.

Learn more »