Green Energy Mobile Cloud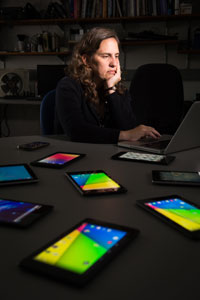 Wendi Heinzelman, professor of electrical and computer engineering and dean of graduate studies, is testing a computer application called the Green Energy Mobile Cloud, which allows volunteers to donate extra space on their Android devices for research. He Ba, an electrical and computer engineering graduate student, developed the app while interning for UCB Pharma.
The GEMCloud App is available on the Google play store. In addition to donating their extra computer space for data science research, those who download the app can also participate in research contributing to energy efficiencies in computer use.
You can read more about this project, and other efforts to expand donated computer time, at this Democrat and Chronicle article (subscription required).
In addition to working on this project, Wendi Heinzelman and her research group develop and implement cutting-edge networking, communication, and signal processing techniques for a wide array of applications.