Aiding the Quest to Heal Traumatic Injuries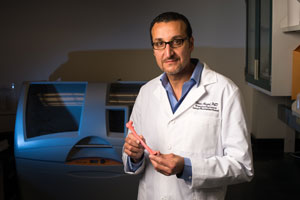 This article has been adapted from the original, which appeared in the Hajim School of Engineering and Applied Sciences' newsletter, Full Spectrum.
By partnering with the Medical Center, the Hajim School's biomedical engineering (BME) faculty and graduate students bolster the University's tissue engineering research. Much of this research is conducted in preclinical models to heal traumatic injuries.
In their own ways, the BME faculty and graduate students in the laboratories of professors Hani Awad, Danielle Benoit, Mark Buckley, and Amy Lerner collaborate closely with the Center for Musculoskeletal Research.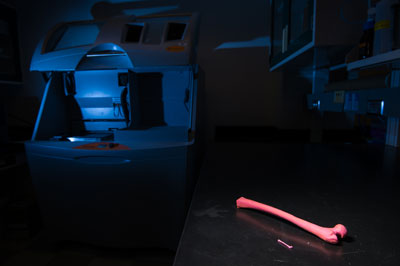 For example, Awad and his lab members use 3D printing technology to fabricate bone scaffolds made of biocompatible material to replace the original bone tissue lost to infection (their research is included among other projects funded by AOTrauma).
As part of the "printing" process, the scaffolds can be "ink-jetted" with antibiotics to fight the infection and with growth factors to stimulate replacement bone growth. These therapeutics can be applied to the surface of the graft, or embedded uniformly in it, so they can be released gradually, as the graft dissolves, to ensure the infection is eradicated and to stimulate regeneration of the bone tissue.
---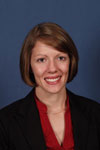 With support from a National Institutes of Health grant, Benoit's team is exploring the use of hydrogels—Jell-O-like polymers—that can be seeded with the patient's own stem cells and wrapped around the transplant. Benoit's graduate student Michael Hoffman has demonstrated that as the hydrogel dissolves, the stem cells are gradually released and promote bone healing and integration. Benoit is exploring various ways in which this can be orchestrated to maximize graft healing and integration.
---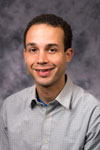 Although not directly involved in creating engineered tissue, Buckley is studying heat buildup in tendons as they stretch during various activities and the extent to which this contributes to cell death and eventual deterioration of the tendon. A key part of this research involves characterizing exactly what constitutes healthy tendon structure and function.
---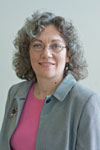 Like Awad, Benoit, and Buckley, Lerner is also among the principal investigators at the University's Center for Musculoskeletal Research. As an associate professor of biomedical engineering and of mechanical engineering, her research involves computational modeling to study the biomechanics of the knee. Lerner and her team study the role of gender, obesity, ethnicity, activities, and meniscal injuries in the development of osteoarthritis.
---
Other principal investigators include faculty in orthopaedics, pathology, rheumatology, environmental medicine, and endocrinology. But all the professors agree that the proximity of the Medical Center to River Campus contributes to the University's continued strength in tissue engineering research.