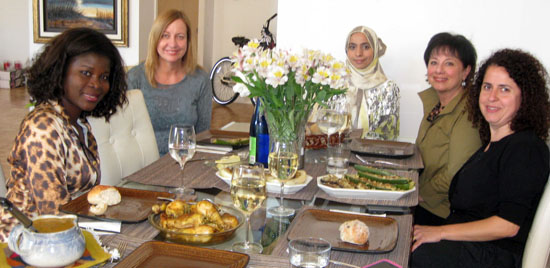 Rochester Global Connections (RGC) is a non-profit organization that brings Rochesterians together with international university students and visitors to create friendships, promote international understanding, and enhance the quality of life for our participants and the community.
Friendship Volunteers
Friendship Volunteers meet with a local international university student from either UR or RIT several times a year for social activities, whether it's a meal together, a street festival, a walk in nature or something else of mutual interest.
Friendship Volunteers come in all varieties, from families wanting to provide their children with exposure to other cultures to empty nesters and singles who love Rochester and would like to develop friendships with people from other countries. The minimum commitment is one year but many friendships endure a lifetime.
Becoming a Friendship Volunteer is a great way for UR employees and our international students to truly know and understand each other. A world of sharing, laughter, discovery and special memories await.
Friendship Volunteer Meet & Greet Information Sessions
UR will host two information sessions about the program. Come here from UR colleagues and students currently involved to hear what they get out of the Friendship program, with the opportunity to sign up on the spot. Refreshments served.
Tuesday, November 12, 3:00pm – 3:30pm Saunders Research Building, Room 1416
Thursday, November 14, 3:00pm – 3:30pm Gowen Room, Wilson Commons
The info sessions are part of International Education Month at UR. Visit http://www.rochester.edu/global/iew or like "University of Rochester Global Village" on Facebook for a complete schedule of events.
Rochester Global Connections Membership
Volunteers must first become RGC members to participate. The suggested annual contribution is $35. Click here to join RGC. RGC will then contact you about becoming a Friendship Volunteer.
The University of Rochester has a number of membership fee waivers to encourage employee participation, especially those on a tight budget. Those interested should first contact Todd St. Vrain, Manager for International Initiatives at todd.stvrain@rochester.edu or (585) 275 – 4821 before applying for RGC membership and to the Friendship Volunteer program.
Thanksgiving Dinner Hosts
Share the Thanksgiving tradition by welcoming one or more international students to your home. RGC membership is not required to participate. Contact RGC Executive Director Amy LaGambino at ExecDir@RochesterGlobalConnections.org or (585) 275-8779, indicating how many international students you would like to host. Hosts must provide transport for their international student guest(s).