Sophos Anti-Virus - Mac OS X 10.6 - 10.10
Please call the IT Center at 275-2000 (5-2000) if you have any questions or experience any problems
**Please make sure that you have uninstalled any other antivirus programs before installing Sophos**
NOTE: If you receive a message that Sophos has failed to download updates from http://its-w2ks42, you need to remove the current version of Sophos and install a fresh copy.
View information on removing Sophos Anti-Virus on Mac OS X
NOTE: Sophos ended support for Mac OS X 10.4 & 10.5 on April 30, 2014.  If you have a Mac running Mac OS X 10.4 or 10.5, you should upgrade to a currently supported Mac OS X operating system (Mac OS X 10.7 or higher)

Step 1: After downloading the Sophos installer for the version of Mac OS X that you have installed, double click on the sav9.dmg  (Mac OS X 10.6-10.10), which should be in your Downloads folder, and it will mount the image and show you the contents as shown below:

Double click on Sophos Anti-Virus.mpkg  to start the installation.  If you are installing on Mac OS X 10.8/10.9/10.10, control-click on Sophos Anti-Virus.mpkg and then select Open.  You will be prompted to open the installer - click 'Open'.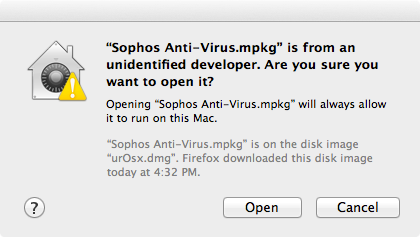 Step 2:  When prompted to run a program to determine if the software can be installed, click Continue.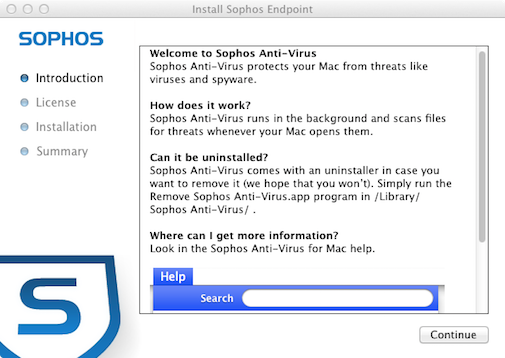 Step 3:  Click Continue at the Introduction screen.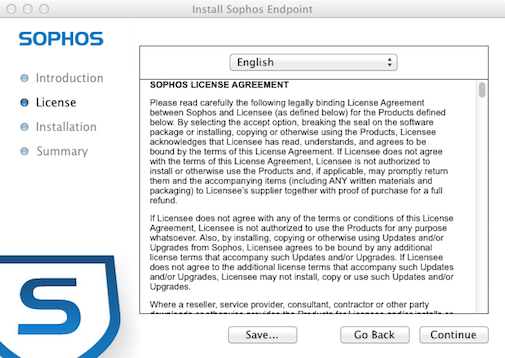 Step 4:  Click Continue at the Read Me screen.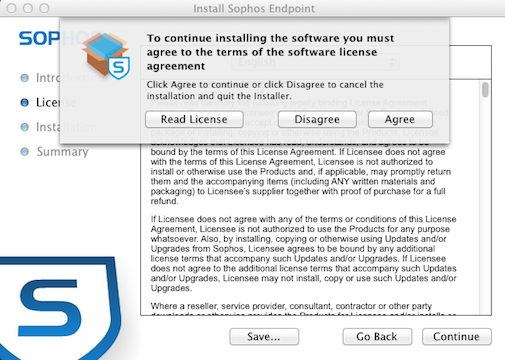 Step 5:  Click Continue at the License screen.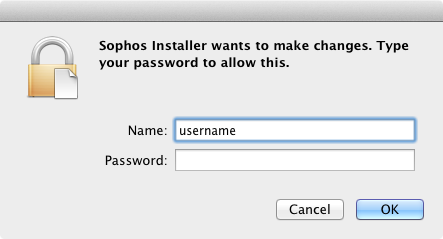 Step 6:  Click Agree.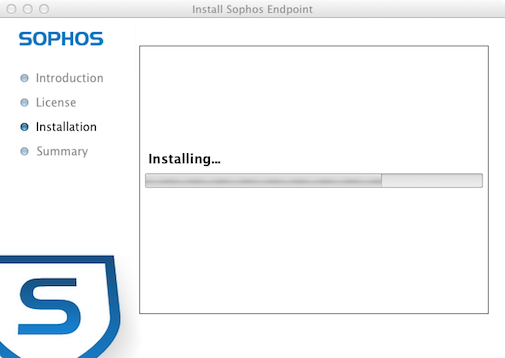 Step 7:  When prompted for your credentials, enter your machine admin username and password and click Install software.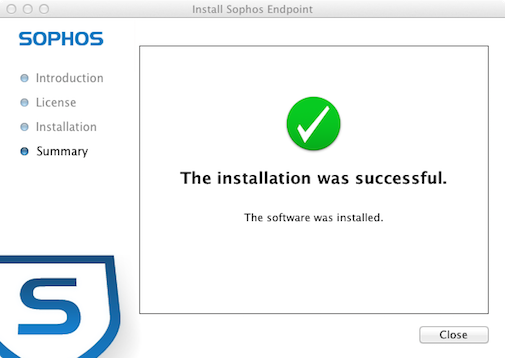 Step 8:  The software will now install.
Step 9:  When the installation is complete, click Close.
You will not need to restart your computer. After the installation is completed, you will see a grey shield

in the OS X menu bar at the top of the screen showing that Sophos is up and running.  After the Sophos client retrieves configuration information from the server (typically within 30 minutes), it will check in with the server on an hourly basis to retrieve updates.