Security Tip of the Week
Identity Protection - How to Keep Your Personal Information Secure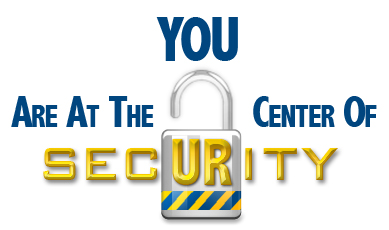 Protecting your personal information can help reduce your risk of identity theft.  There are four main ways to do so:
Know with whom you share information
Store and dispose of your personal information securely, especially your Social Security number
Ask questions before deciding to share your personal information
Maintain appropriate security on your computers and other electronic devices
The Federal Trade Commission provides some tips to help accomplish this.
Keeping Your Personal Information Secure Offline
Lock your financial documents and records in a safe place, and lock your wallet or purse in a safe place at work.
Keep your information secure from roommates or workers who come into your home.
Limit what you carry.  Only take the identification and cards that you need with you.  Leave your Social Security card at home.
Before sharing your information at work, a business, at school, or a doctor's office, ask why it is needed and how they safeguard the information.
Shred receipts, credit offers, credit applications, insurance forms, physician statements, checks, bank statements, expired charge cards, and similar documents when you don't need them any longer.
Destroy the labels on prescription bottles before you throw them out.
Take outgoing mail to post office collection boxes or the post office.  Remove mail that arrives in your mailbox as soon as possible.  Request a vacation hold on your mail if you won't be home for several days.
Keeping Your Personal Information Secure Online
Be alert to impersonators.
When disposing of a computer, use a wipe utility program to get rid of any personal information it stores.
When disposing of a mobile device, check your owner's manual, the service provider's website, or the device manufacturer's website for information on how to delete information permanently, and how to save or transfer information to a new device.
Encrypt your data.
Keep passwords private.
Don't over-share on social networking sites.
Further information about how to keep your information safe can be found at http://www.consumer.ftc.gov/articles/0272-how-keep-your-personal-information-secure
More information about Identity Theft can be found at http://www.rochester.edu/it/security/yourself/id_theft2.html.
---
Do you have ideas that should be shared as security tips of the week? If so, please send them to UnivIT_SP@ur.rochester.edu.