Welcome First-Generation Students & Families!
---
---
Being the first or one of the first in a family to attend college is special and instills great pride within the student and family. We encourage students to remember that they have worked hard to get here and to make the most of this special time in their lives. We encourage parents/family to be proud and supportive of their students. At the University of Rochester we want to remind first-generation college students* that anything and everything is possible.
*At the University of Rochester, a student is identified as a first-generation college student if neither parent/guardian earned a Bachelor's degree.
For questions about this page, please contact Parent and Family Relations at urparents@rochester.edu or (585) 275-5415.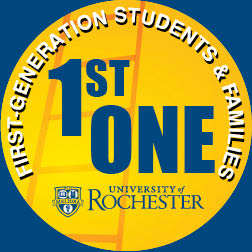 STUDENTS—CLIMB UP
All students need support and guidance.
Here are some tips to help you "CLIMB UP" the academic ladder:
CHOOSE
a major that's the right fit, rather than something that sounds impressive or is what others expect of you.
LEARN
how to prioritize school and manage your time, while also taking necessary mental breaks.
INQUIRE
about support resources for underrepresented students like OMSA and the Kearns Center.
MEET
regularly with your advisor to know important academic requirements and deadlines, and to stay on track for graduation.
BOND
with fellow classmates and peers within your major.
UNDERSTAND
the financial aid process and know the difference between loans, grants, and scholarships.
PARTICIPATE
on campus by attending events and joining student organizations, clubs, and teams.
PARENTS & FAMILIES— BE PROUD
A college degree is a great accomplishment for any student! Here are some tips to help you better support your student.
BE PATIENT!
This is a learning experience for both you and your student—you will be learning about this transition together.
EXPECT
change, as college is a time of growth and discovery, but remember that pursuing higher education does not mean your student will lose the values you taught them.
PUSH
your student to get involved on campus by attending events and joining student organizations, in addition to utilizing campus resources when experiencing academic, social, or emotional difficulties.
REMEMBER
your student may not be able to visit home or communicate on the telephone as much and they may not have the same amount of time to devote to family responsibilities as they did in the past.
ORGANIZE
care packages and send goodies from home when possible. Some examples include a special note from mom, dad, and other loved ones, student's favorite cookies, family pictures, and keepsakes.
UTILIZE
campus resources when you have questions. Parents Buzz (e-newsletter) and the UR Family Newsletter are full of information.
DISCOVER
the college process, especially the financial aspects, and learn about the University of Rochester more generally. This will help you become more familiar with what your student is experiencing. 
---
Student Stories
---
Words of Wisdom
Encouraging quotes from anonymous students to their peers:
"Don't let distractions get in the way of your success."
"It really is all worth it in the end."
"Know when you need help, where you need help, how you need help, and then actively seek it out."
"Don't be discouraged by students who come from different backgrounds."
"You were selected to attend this university because of what you could offer… you deserve this."
"You CAN do college work. You have what it takes and there is a whole group of people here to walk alongside you."
"Be yourself, do what you love NOT what you "should" do, and have FUN!"
"Connect. Connect with peers, especially those who are older. Learn from their experiences and reach out to them for guidance."
---
Events & Opportunities:
---
UR/College Acronyms and Lingo
At the University of Rochester names of departments, offices, programs, and more are commonly referenced by an acronym or abbreviation, rather than their full name. The Office of Parent and Family Relations recognizes that this shortened language might pose some confusion for new students or other individuals less familiar with the University. Below is a list of the most commonly used acronyms and abbreviations by the University community as well as some general college lingo one would expect to hear on any college campus. Links to respective web pages with additional information are also provided.
Go to the acronyms and lingo page >
---
Resources
I'm First!
About: "I'm First! is an online community for first-generation college students—and their supporters. Hear inspiring stories and share your own, discover colleges that care about first-gen students, find answers to your questions about college, and receive guidance on the road to and through college."
Website: http://www.imfirst.org/
Check out the I'm First! Blog for the latest first-gen updates and tips!
Future Global Leaders Fellowship Program
Mission: "Future Global Leaders (FGL) advocates a global vision of leadership for highly talented and resilient first-generation college students selected internationally."
Goals: "Provide future leaders with global network, leadership, and vision."
Program: "Each year, starting during the spring of their Freshman Year, FGL selects Fellows in the US and in other parts of the world to take part in its highly selective Program. From the end of Freshman Year until Graduation, FGL will: 1) enhance Fellows' self-confidence and leadership skills, 2) provide them with early international exposure, and 3) develop a closely-knit, cohesive network with access to worldwide professional connections." (Note: In 2014, two of the twenty-two total FGL Fellows selected were University of Rochester students)
Website: http://futureleaders.org/
---
Readings
Books:
Cushman, Kathleen. First in the Family: Your College Years, Advice about College from First-generation Students. Providence, RI: Next Generation, 2006. Print. 
West, Norman, and Olivia West. Debt Free at 33: 33 Ways You Can Become Financially Free. Rochester, NY: West Advisory Group, 2012. Print. 
Articles: