Carpooling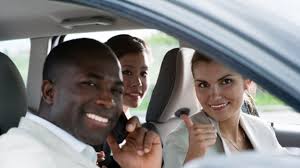 Click on the above Rideshare link to access a list of riders looking to carpool!
To take advantage of carpool savings, all participating members must have a registered
vehicle and work similar hours.  In addition to using less gas, you'll also benefit from
substantially reduced parking rates.  The amount of savings - which ranges from 50%
off annual parking rates to FREE parking - depends on the number of people carpooling.
General information is below:

Save Money!
2 people carpool - pay 50% of rate
3 people carpool - pay 25% of rate
4 people carpool - no charge

Flexibility!
Each rider receives 26 occasional parking permits to use throughout the
year for those times when you are unable to ride in the carpool.  The permit
allows you to park in the same lot as the carpool lot, or, in the case where
riders are split between campuses, you can make arrangements to park in
the lot closer to your worksite.

Back-Up Ride Guarantee!
In the case of a verified emergency situation, the Parking Office offers a
free transportation service to quickly get you where you need to go.

More information on carpooling is available by calling 585.275.4524.