Biking
Biking at UR Brochure

Bicycling to and from work and/or school is well suited to the University of Rochester's spring, summer and fall climate.  Biking is affordable and a healthy way to get around.  Biking is not just for leisure anymore - a growing number of faculty, staff and students are choosing to commute by pedaling past the pump, and improving their health while saving on transportation.
There is plenty of free bicycle parking on the University and Medical Center campuses - an estimated 500+ bike rack spaces.  Whether biking for recreation or commuting to work or class, University Parking and Transportation Services can assist you with:
-Covered Bike Cage Rental (Medical Center Campus)
-Bike Locker Rental (Medical Center Campus)
-Medical Center Bike Rack Locations Map
-River Campus Bike Rack Locations Map
We offer free bike racks throughout both campuses, or bicyclists can purchase a space in a Medical Center bike cage or locker.  Bikes can be stored in our fully enclosed, weather-protected, padlocked bike cage located on the ground level of the hospital's ramp garage.  For a small fee, users of this swipe-access cage can also purchase a locker and shower access to URMC's Fitness & Wellness Center, to freshen up after you arrive.
Medical Center Bike Locker - $40.00
Medical Center Bike Locker with Shower Access - $88.00
For more information on bicycling on campus or to rent a bike cage or locker, please contact University Parking Parking and Transportation Services at 585.275.4524.
Like to Take Your Wheels on the Shuttle?  Here's How: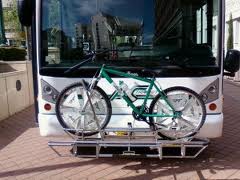 Loading Your Bike
As the bus approaches have your bike ready to load
Remove loose items/accessories before placing bike on exterior rack
Tell the bus driver you are loading a bike
Lower rack, load bike and make sure bike is supported and secured
Sit near the front of the bus to watch your bike
Unloading Your Bike
Tell the bus driver you need to unload your bike
Lift bike off the rack
Return bike rack to folded position
Local and State Bicycling Information

Local Bicycling Trails/Maps

NY Bicycling Coalition