UR Transit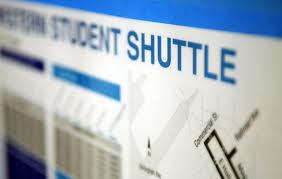 TRANSLOC RIDER - NEW App designed with iOS7!  Download today!
Buses/shuttles are FREE to UR and RIT card holders for the lines below.
Please swipe your ID Card when boarding.
Please Note:  There may be delays due to inclement weather and/or
current construction around the University
Buses DO NOT operate on University Holidays
For Questions/Comments:  M-F 8-5pm 585.275.5953
                                         AFTER 5pm 585.235.6670 
SPRING BREAK SCHEDULE 2014
EFFECTIVE Sunday, 3/9-Friday, 3/14
Red, Silver, Green and Gold Line will not operate
on Monday, March 10th-Friday, March 14th
Normal service will resume on Saturday, March 15th

SPRING 2014 SCHEDULES!
Eastman Lines (consolidated)
RED Line - Eastman Living Ctr, River Campus
ORANGE Line - RR Library, East End, South Wedge, Eastman Living Ctr
GREEN Line - (Sat, Sun, Tue & Wed ONLY!) - RC, Marketplace Mall, Pittsford
Plaza, Public Market, Riverview/Brooks Landing, Walmart, Target,
Regal Henrietta (Public Market is seasonal and will resume 3/8/14)
BLUE Line - Whipple Park, River Road  Buildings, Hospital, River Campus
SILVER Line - Park Lot, Hopeman, Rush Rhees
(Runs 7am-noon AND 4pm-midnight)
GOLD Line - RR Library, 19th Ward
Gold Line Direct stops at Riverview Apts Bldg C ONLY, RR Library, Brooks Landing
Geneseo-Rochester Weekend Shuttle
(fares apply to ride this bus)
Rustic Village Residents
MC/RC campus via RTS bus #50
(RTS fares apply to ride this bus)