Visitor and Patient Parking
Visitors to River Campus
Visitors to River Campus can purchase one-day permits at the River Campus Information Booth for a fee of $5.00 (after 4:00pm the fee is reduced to $3.00), or they may use the meters along Wilson Blvd. for short term parking.
Parking permits are required on River Campus 7:30am to 7:00pm, except on weekends. Reserved spaces are reserved at all times.
Visitors to Medical Center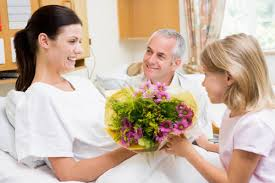 Valet Parking - Main Entrance
Valet Parking - Cancer Center
Medical Center Visitor/Patient Parking Brochure
Parking Directions, Parking Maps, Medical Center Ground Floor & 1st Floor Maps
Additional Parking Services & Vehicle Assistance Program (V.A.P.)
Visitor Parking Fees
| | |
| --- | --- |
| TIME |   RATE |
| 0-30 minutes |  FREE |
| 30-60 minutes |  $3.00 |
| 61 minutes-2 hours |  $5.00 |
| 2 hours-24 hours |  $6.00 |
| | |
Take your parking ticket with you when entering the Medical Center.

Visitors who misplace their parking tickets will be charged
at the maximum rate of $6.
Obtain a day pass at the parking booth exit if you will be returning on the same day. Day pass is
valid for 24 hours from the entry time stamp on receipt.  View locations and hours of operations.

Weekly Pass from 1-7 day parking passes can be purchased for $6 per day.  Pass must be purchased
prior to exiting the visitor parking areas.

30 days passes are available to immediate family members who are visiting an inpatient who has
been admitted at least 30 consecutive days.  A letter from a social worker is required.  Please speak
with a social worker on the unit the patient is located.

Validation tickets may be purchased (minimum of 3 and a maximum of 10) at any of the locations
above.  The cost of a ticket is $4.50 and is good for one exit up to $6.  Tickets do not expire.
Transportation Services to/from Medical Center
City Bus Services

Regional Transit Service: 585.288.1700

Shuttle Service

Rochester Shuttle Express: 585.663.3760

Special Needs Services

Genesee Transportation, Inc: 585.256.1510
Handicare Transportation: 585.272.1787
Lift Line: 585.426.3520
Medical Motor Service: 585.654.7030
Metro Transportation: 585.328.8030
Monroe: 585.232.9000
Rural Metro: 585.546.2525
Rochester Medical Transport: 585.288.3444