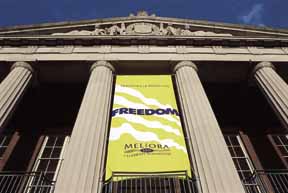 Freedom rings: The first edition of Meliora Weekend featured panels of experts discussing current issues pegged to the theme of "freedom," entertainment by student groups and national stars, and ceremonies to reflect on the meaning of freedom.
With its theme of "freedom" given new resonance following the September 11 terrrorist attacks, the College's new annual tradition of Meliora Weekend kicked off last October.
The three-day weekend features a series of panel discussions, lectures, and presentations organized each year around a theme central to the College academic experience and is part of a larger effort to reinforce a sense of community among alumni, faculty, and students.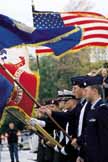 Taking a cue from the success of the 2000 Sesquicentennial celebration, the weekend combines Reunion, Family Weekend, Homecoming, and the Stonehurst Capital Invitational Regatta.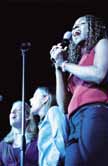 Keynote speakers for the 2001 weekend were Norman Mineta, U.S. Secretary of Transportation; Bill Bradley, former New Jersey senator and 2000 Democratic presidential hopeful; and Jeane Kirkpatrick, former U.S. Ambassador to the United Nations.
Entertainment included performances by Bill Cosby, the Gap Mangione Big Band, Second City Comedy, the Skycoasters, and others.
Meliora Weekend 2002 is scheduled for October 11-13.