July-August 2007
Rochester Review
A noted neurologist and educational administrator begins his tenure as provost this fall. Also joining the University's senior leaders is a highly regarded composer and conductor as dean of the Eastman School.
John Covach, chair of the Department of Music in the College and a professor of theory at the Eastman School, helps ggive students a new appreciation for modern popular music. By Ryan Whirty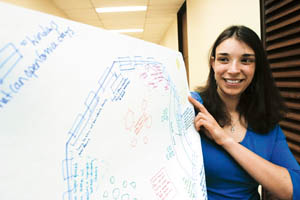 If you could design a place to study on campus, what would it look like? The asked, and students answered. By Robin Flanigan
"I really try to find balance," says Nicholas Zappia '07, a two-time first-team Academic All-American in football, about his goals in the classroom and on the field. He's one of many Rochester students who have found the right combination. By Enid Arbelo. Photographs by Richard Baker
---
Rochester Review for the Web
Editor: Scott Hauser
Web Editor: E.J. Van Lanen
Graphic artist: Steve Boerner

Editorial office: 147 Wallis Hall, University of Rochester, Rochester, NY 14627-0033
(585) 275-4119 | Fax: (585) 275-0359 | E-mail: rochrev@rochester.edu
Published quarterly for alumni, students, their parents, and other friends of the University, Rochester Review is produced by the Office of Communications.
Opinions expressed are those of the authors, the editors, or their subjects and do not necessarily represent official positions of the University of Rochester.
Maintained by University Public Relations.
Please send your comments and suggestions to Rochester Review.