September-October 2007
Rochester Review
The University opens a new center for alumni, families, and friends. Photography by Richard Baker. Text by Scott Hauser.
As the Department of Economics celebrates its 50th anniversary, we count the ways it has influenced the field. By Kate Perry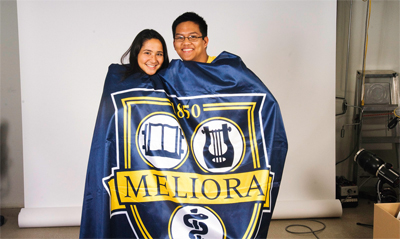 In a nod to tradition—the motto Meliora takes on new prominence—and to the future, Rochester launches a new logo and graphic identity program to highlight that Rochester is "one university." By Kathleen McGarvey
Successful business executive Donald Winter '69 finds his "call to service" as the Navy's top civilian leader. By David McKay Wilson
---
Rochester Review for the Web
Editor: Scott Hauser
Graphic artist: Steve Boerner

Editorial office: 147 Wallis Hall, University of Rochester, Rochester, NY 14627-0033
(585) 275-4119 | Fax: (585) 275-0359 | E-mail: rochrev@rochester.edu
Published quarterly for alumni, students, their parents, and other friends of the University, Rochester Review is produced by the Office of Communications.
Opinions expressed are those of the authors, the editors, or their subjects and do not necessarily represent official positions of the University of Rochester.
Maintained by University Public Relations.
Please send your comments and suggestions to Rochester Review.