November-December 2007
Rochester Review
The Medical Center outlines plans for an expansion at Strong Memorial Hospital.
Rochester plays host to Division III's largest and longest-running basketball tournament. By Ryan Whirty
Alumni, parents, students, and friends gather for Meliora Weekend 2007.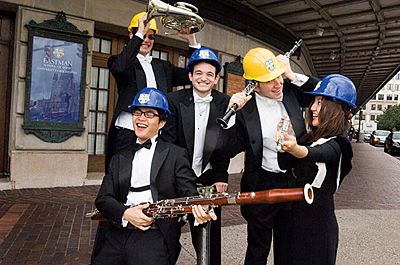 Nearly 90 years on the drawing board, the original idea for building the Eastman School—and Eastman Theatre—is guiding plans for a 21st-century addition. Graphics by Paulina Garces Reid
"It will always be a part of our past, and nothing should ever be erased. Now is the time to move on to a new normalcy, a new birth," says Ed Spencer '67, the associate vice president for student affairs at Virginia Tech, as his campus moves forward from a tragedy. By David McKay Wilson
---
Rochester Review for the Web
Editor: Scott Hauser
Graphic artist: Steve Boerner

Editorial office: 147 Wallis Hall, University of Rochester, Rochester, NY 14627-0033
(585) 275-4119 | Fax: (585) 275-0359 | E-mail: rochrev@rochester.edu
Published quarterly for alumni, students, their parents, and other friends of the University, Rochester Review is produced by the Office of Communications.
Opinions expressed are those of the authors, the editors, or their subjects and do not necessarily represent official positions of the University of Rochester.
Maintained by University Public Relations.
Please send your comments and suggestions to Rochester Review.