Rising Alumni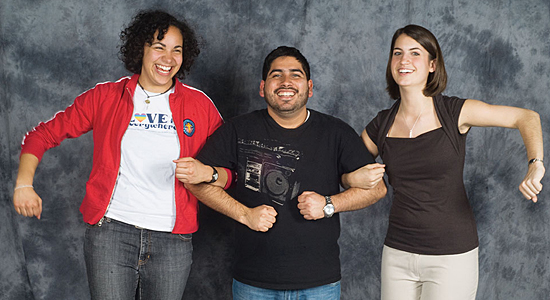 Colette Carmouche
When Colette Carmouche heard there had been some vandalism and harassment on campus directed at gay, lesbian, bisexual, and transgender students, she cowrote a proposal for a staffed resource center that would advocate and provide services for them. With other students, she collected data on similar centers at colleges nationwide, and then presented the proposal to the dean of the College with the support of the College's Diversity Roundtable in February 2007. Plans for the center are under way.
"We had to start from scratch so we did a lot, a lot, a lot of benchmarking," says Carmouche, who hails from Stafford, Texas. "Whatever I do in the future, that is where I'm going to start in terms of trying to start initiatives. I'll be engaged in some type of activism or organizing, so it was a really important skill I took from that experience."
During her sophomore year, the double major in anthropology and African and African-American studies founded Shades, a social group for multiracial students. Selected for both the Urban Fellows and Ronald E. McNair Post-Baccalaureate Achievement programs and a 2007 recipient of a Susan B. Anthony Center for Women's Leadership scholarship, she was a student editor for the anthropology department's newsletter and a contributing writer for The Messenger, a student-run social and cultural magazine. She studied abroad in Peru and Senegal.
"Colette has exceptional drive and focus," says Belinda Redden, director of fellowships and assistant director in the College Center for Academic Support. "She's extremely personable, a risk taker, and has a very sincere sense of social consciousness. She thinks deeply and acts creatively."
Oscar Omar Figueredo
Oscar Omar Figueredo grew up in Brownsville, Texas—a border town he calls "a distinct reality from Rochester."
Since his freshman year, the Spanish and comparative literature major has gone back to his high school during summer and winter breaks to talk to students about applying for and attending college. With other former classmates, he helped develop a blog, http://brownsvillegrads.wordpress.com, where about 10 alumni post entries each month.
"I didn't have that sort of peer mentoring when I was in high school," Figueredo says. "I figured if I could get a bunch of other people to volunteer, this would be a lot more effective. It's really helped me to discover what I'm passionate about."
Figueredo, who is also a percussionist, wants to continue his work in secondary schools and plans to broaden the blog to include alumni from other high schools in Brownsville. Through Rochester's Ronald E. McNair Post-Baccalaureate Achievement Program, he has set his sights on a Ph.D., which he will pursue at Cornell.
Beth Jorgensen, associate professor of Spanish, describes him as a "multitalented, resourceful individual" known for his "intellectual curiosity and aptitude, his broad interests, his outstanding academic record, and his spirit of adventure."
A student editor of the newsletter of the Office of Minority Student Affairs, and a former Eastman School section editor for the Campus Times, Figueredo also helped teach English at an adult literacy center, and presented his research at national and regional research conferences.
Katie Schwertz
Despite being one of only a handful of women majoring in optics, Katie Schwertz has made herself known, holding posts in the University chapter of the Optical Society of America, interning at Rochester Precision Optics, and helping to get precollege students interested in the field.
A native of Lancaster, N.Y., Schwertz, who has been the OSA chapter's president and social chair, was instrumental in getting undergraduates involved in outreach programs that incorporate an "optical suitcase"—an interactive package of scientific concepts developed and produced at the University and used at elementary and middle schools across the country. To offer educational events for undergraduate optics majors, she helped organize tours of local companies and brought speakers on campus to talk about job applications and various career paths.
"She was a tireless advocate for the organization," says Lisa Norwood, assistant dean in the School of Engineering and Applied Sciences. She adds, "As a result of her superb networking and public speaking skills, combined with her excellent grasp of the field of optics, she is one of the top engineering students I have worked with in my 20 years at the University."
Schwertz's current plans include heading to the University of Arizona in the fall to pursue a master's degree in optics, then work her way up to a managerial position in the optics industry.
"Right now I'm trying to get a technical background, and maybe someday I'll start my own company," she says. "Hopefully I'll see a good idea along the way and say, 'Somebody should take that opportunity and run with it.'"