May-June 2008
Rochester Review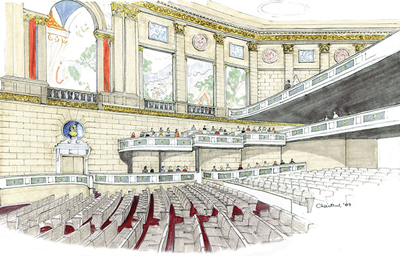 Rochester company commits $10 million to help complete founder's vision for school and storied theater.
As Rochester celebrates its 158th Commencement this spring, we introduce a few seniors who will be taking their talents far beyond campus. By Robin L. Flanigan. Photographs by Richard Baker
With a roster drawn from all corners of the globe, the Yellowjacket squash team is returning to national prominence. By Ryan Whirty
Collaboration between the College and the George Eastman House is bringing a new focus to historic images and how to access them. By Kathleen McGarvey
As the University develops the Campus Master Plan, architects and planners sketch the future. By Sharon Dickman
---
Rochester Review for the Web
Editor: Scott Hauser
Graphic artist: Steve Boerner

Editorial office: 147 Wallis Hall, University of Rochester, Rochester, NY 14627-0033
(585) 275-4119 | Fax: (585) 275-0359 | E-mail: rochrev@rochester.edu
Published quarterly for alumni, students, their parents, and other friends of the University, Rochester Review is produced by the Office of Communications.
Opinions expressed are those of the authors, the editors, or their subjects and do not necessarily represent official positions of the University of Rochester.
Maintained by University Public Relations.
Please send your comments and suggestions to Rochester Review.