July-August 2008
Rochester Review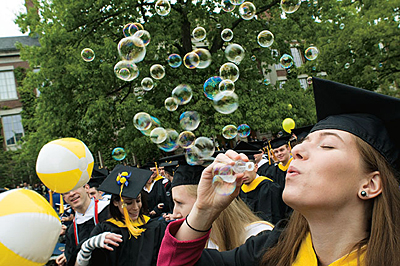 Rochester is poised to grow, become better recognized, and rise among its peers, says Ed Hajim '58, the new chairman of the Board of Trustees.
How does faith—and the interaction between faith communities—influence student life at Rochester? In many ways, say students. By Robin L. Flanigan. Photographs by Richard Baker
Combining patient care and translational science, the James P. Wilmot Cancer Center's new building bolsters Rochester's place among the leading treatment and research programs. By David Dorsey '75
The research and leadership of Rochester scientist David Williams has changed the field of vision science. By Joseph Sorrentino
Adolescents are not as inscrutable as many parents think, says Judith Smetena, a field-leading Rochester psychology professor. By Hilary Appelman
The University congratulates faculty, students, and staff who have earned national recognition and received teaching awards this year.
---
Rochester Review for the Web
Editor: Scott Hauser
Graphic artist: Steve Boerner

Editorial office: 147 Wallis Hall, University of Rochester, Rochester, NY 14627-0033
(585) 275-4119 | Fax: (585) 275-0359 | E-mail: rochrev@rochester.edu
Published six times a year for alumni, students, their parents, and other friends of the University, Rochester Review is produced by the Office of Communications.
Opinions expressed are those of the authors, the editors, or their subjects and do not necessarily represent official positions of the University of Rochester.
Maintained by University Public Relations.
Please send your comments and suggestions to Rochester Review.