Alumni Gazette
LIFELONG LEARNING
Connecting in the Facebook Age
Looking to learn more about social media? Alumni Relations explores a program to get the pre-Internet generation of alumni online.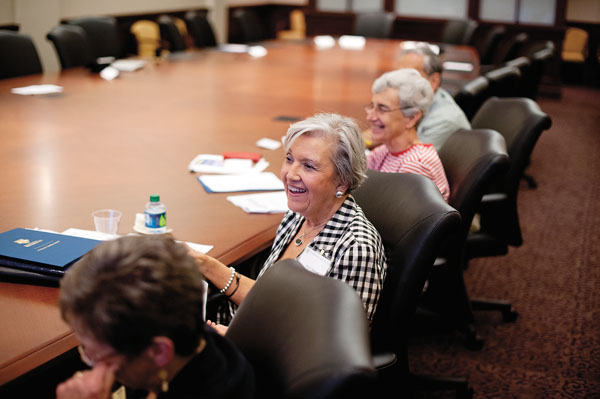 Mary Komornik Massad '56 wanted to stay on top of the news in her family, particularly among her grandchildren, so she volunteered for a recent training session on Facebook with other members of the University's Lifelong Learning Advisory Council.
"I'm trying to get myself into the 21st century to keep up with this gang of mine, frankly," said Massad '56, who lives in Manlius, N.Y., and cochairs the council. Most of her 10 grandchildren use Facebook. "They live in different states and communicate this way, and occasionally I hear about what they've heard from each other that I knew nothing about."
After learning that senior citizens are the fastest-growing segment of Facebook users in the United States (a number that could reach 55 million by 2020, according to the Pew Internet and American Life Project), the Office of Alumni Relations decided to lead a pilot training session to gauge interest in further training on a larger scale.
Led by Christyn Sanagursky, program manager of alumni marketing and communications, and Oliver Cashman-Brown, a program assistant for alumni education, the orientation focused on the basics of setting up a Facebook account, as well as the reasons for doing so, such as staying in touch with relatives, reuniting with former classmates, and taking advantage of promotions from local businesses.
"Sometimes you'll learn more about your family than you wanted to know," cautioned Cashman-Brown, whose comment drew laughter from the nine participants. (The group found the site's "poke" option even funnier.) "But you can be connected in a different way to the world around you."
He also pointed out that people use Facebook in different ways. His mother, for instance, typically only posts pictures of her cats, while his niece "updates every 20 seconds."
The group's homework assignment? Set up an account, send out friend requests, and "like" the Alumni Relations Facebook page.
Dick Schwartz '63, '66 (MS) and Vicki Proschel Schwartz '62 left the session intrigued, but still unsure whether they wanted to put in the commitment to create and maintain a Facebook account. They weren't convinced that the social media site can offer much more than they're currently getting through phone calls, email, and Google searches.
"But I certainly know more now than I did before," said Vicki Schwartz, of Perinton, N.Y. "I'm interested in learning more."
While Massad plans to start a Facebook account, she will be "very selective" with it, mostly because she doesn't think she could ever put in the amount of time online that the younger generation does. She prefers reading newspapers, magazines, and books to spending time on the Internet.
But she realizes that nothing beats the immediacy of social media.
"I really want to find out what's happening in my family as soon as the rest of my family knows," she said.
Alumni can visit the Facebook page of the Office of Alumni Relations at www.facebook.com/URAlumniRelations.
—Robin L. Flanigan
---
Flanigan is a Rochester-based freelance writer.