Alumni Gazette
IN THE NEWS
So . . . On Tour with Peter Gabriel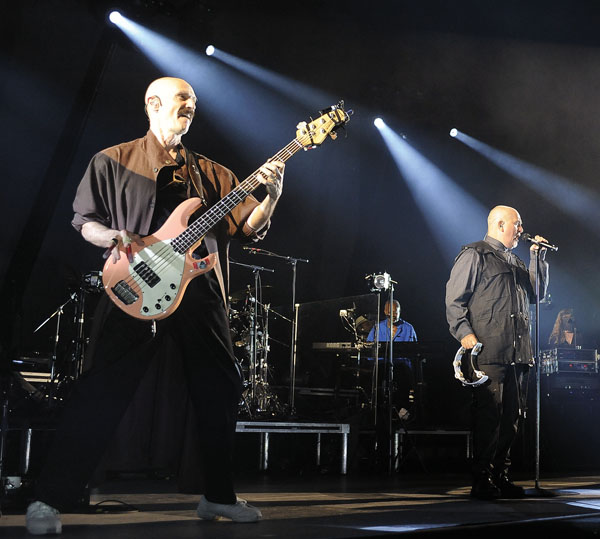 For 30-plus years, Peter Gabriel, the British art rock master who became a megastar in the 1980s with the release of the platinum album So, has consistently relied on bassist Tony Levin '68E.
This fall, Levin joined Gabriel on his "Back to Front" tour, which accompanies a 25th anniversary remastered edition of So (Geffen Records). The album melded catchy pop melodies and rhythms with stirring Wolof vocals from Senegalese singer Youssou N'Dour, Levin's signature "funk-fingering" bass-playing technique, and other flourishes that were strikingly new in 1980s pop.
Levin, whose first major gig was with the Rochester Philharmonic Orchestra, has released six solo albums, several of which feature his work on the Chapman stick, an instrument consisting of a long, wide fretboard with 8, 10, or 12 strings, named for its creator, jazz musician Emmett Chapman.
Levin has worked with many celebrated popular musicians in addition to Gabriel, including John Lennon, who nicknamed the shorn and mustached bassist "Kojak" during the recording sessions of what would be his final album, Double Fantasy, written and recorded with Yoko Ono in 1980.
Levin has returned to Rochester several times over the years, including to visit the Eastman School. He returned to the school most recently in June 2007 to perform with Chuck Mangione '63E, Steve Gadd '68E, the late Gerry Niewood '70E, and several other original performers in a re-creation of the 1970 "Friends and Love" concert that helped launch Mangione's career.
This month, in the wake of his tour with Gabriel, Levin is in Europe with his band, the Stick Men. He keeps an up-to-date "Road Diary" on his website, www.papabear.com.
—Karen McCally