Class Notes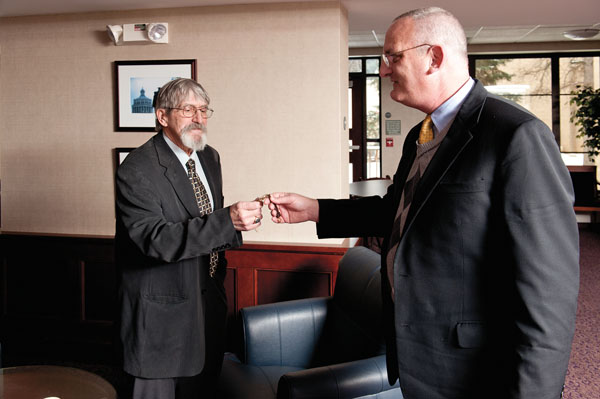 "I have a strange request," said Terry Bigler into the telephone, to Karen Thering in the Office of Alumni Relations.
Bigler wasn't an alumnus. But he was from the area and had once worked at Genesee Hospital. Later, he'd worked as a truck driver, and near a rest stop in Columbus, Ohio, he'd found a watch. The watch had the University of Rochester insignia on the front, and on the back was the inscription D. B. S. May 1979. Could she help him find the owner?
Within a short time, Thering and her colleague, Francine Lynch, did just that. Thering placed a call to Del Benjamin Salmon '79 of Schenectady, N.Y., and left a lengthy voicemail that began with, well, a strange question. A gentleman had found a University of Rochester watch in Columbus, Ohio, with Salmon's initials and class year on it. Was it his?
Yes, it was. And it was a prized possession, given to him by his late parents. He'd worn it every day until the day it disappeared in a University of Vermont library when he was a law student nearly 25 years ago.
"I'm the beneficiary of the kindness of strangers," Salmon said, as he, his wife, Randie Rudin Salmon '80, and Bigler met over lunch at the Alumni and Advancement Center in January. Following lunch was a walk around River Campus, offering a chance for Del and Randie to reminisce about their wedding at the Interfaith Chapel and reception in Wilson Commons.
This had been Bigler's second attempt to return the watch. He'd found it in 1995, glistening in the dirt underneath a bush he'd approached in order to photograph a flock of turkeys roaming just beyond it.
"I was on my hands and knees," said Bigler, who'd stopped at the rest stop for coffee, but was also an avid photographer. He'd called the University then, but the switchboard operator had been unable to help him. This past fall, as he was cleaning his attic, Bigler thought he'd give it another try.
Neither man would hazard any guesses as to how the watch made it from a library in Vermont to a bush in Ohio. Salmon simply noted that the watch, which Bigler found dirty and corroded, was cleaned, polished, and "keeps perfect time."
—Karen McCally