In Review
ALL-AMERICANS
Yellowjackets Rake in Honors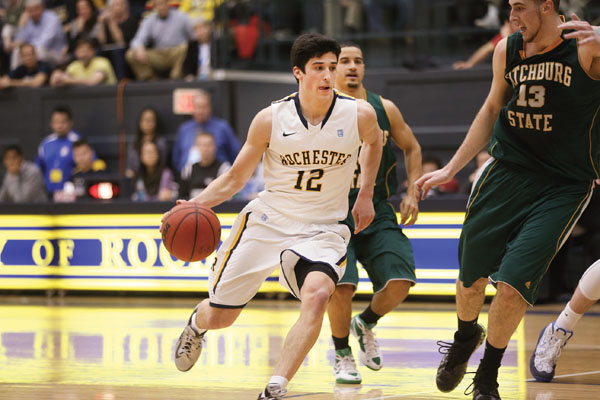 John DiBartolomeo finished his Yellowjacket basketball career as one of the program's most decorated players. The senior from Westport, Conn., was named national Player of the Year by two media organizations that follow Division III basketball—D3hoops.com and DIIINews.
Both groups also selected him as a first team All-American, giving DiBartolomeo four first-team selections for the year. Also naming him an All-American were the National Association of Basketball Coaches (NABC) and the U.S. Basketball Writers' Association. DiBartolomeo, who led the 22–5 Yellowjackets in scoring, rebounding, assists, and steals this season, also was named Player of the Year by the University Athletic Association and the Eastern College Athletic Conference (for Upstate New York). He was named the East Region Player of the Year by D3hoops.com and the NABC. DiBartolomeo was a first team honoree by the UAA, ECAC Upstate New York, the NABC, and D3hoops.com.
He was selected to play in the Reese's NABC Division III All-Star Game, and he was named a finalist for the Josten's Trophy, given by the Salem Rotary Club.
DiBartolomeo was one of two Rochester basketball players to earn All-America honors this spring. Sophomore guard Ally Zywicki, of Liverpool, N.Y., was selected as an honorable mention All-American by the Women's Basketball Coaches Association. Zywicki, who led the 20–7 Yellowjackets in scoring, was named first team All–UAA, second team All–ECAC Upstate New York, and first team All–East Region by D3hoops.com.