Alumni Gazette
Jo Anne Pedro-Carroll '84 (PhD) Lends Helping Hand on Sesame Street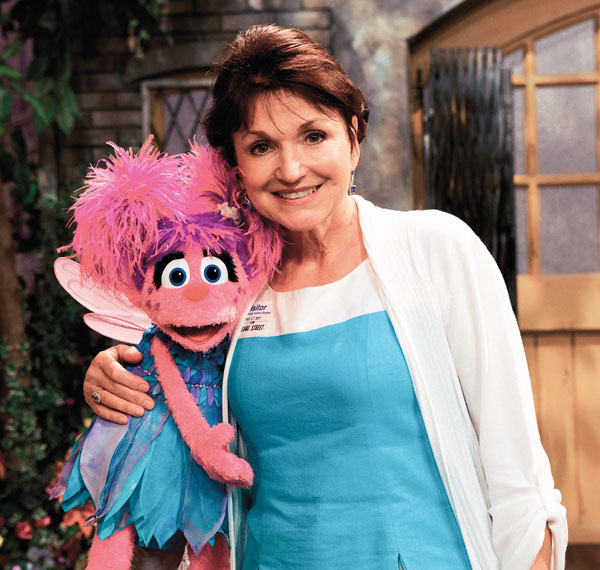 Sesame Street's Abby Cadabby got some solid advice on coping with her parents' divorce from clinical psychologist Jo Anne Pedro-Carroll '84 (PhD). Now she's sharing that advice with her young fans.
An expert on children and divorce, Pedro-Carroll was hired as a consultant to Sesame Workshop, the digital educational initiative affiliated with the classic PBS children's television show Sesame Street. Pedro-Carroll was among four experts who shaped the multimedia project "Little Children, Big Challenges: Divorce." The project, designed for children ages two to eight, includes resources for parents, such as a guide and online toolkit, as well as for children.
In a DVD and a storybook, the muppet Abby Cadabby—who's lived alongside Big Bird and friends on Sesame Street since 2006—shares with her young fans her feelings and experiences before, during, and after her parents' divorce.
Pedro-Carroll is the author of the 2010 book Putting Children First: Proven Parenting Strategies for Helping Children Thrive Through Divorce (Penguin).
Norman Neureiter '52 Honored by Austrian Government
Norman Neureiter '52 has been awarded the Austrian Cross of Honour for Science and Art. The award, bestowed by the Austrian government, recognized Neureiter for his work with the International Institute for Applied Systems Analysis, founded in 1972 to bring scientists across the Cold War divide together to address global problems. The institute, which today includes member nations from five continents, is located near Vienna.
Neureiter, a chemist and the acting director of the American Association for the Advancement of Science's Center for Science, Technology, and Security Policy, was honored by the Japanese government in 2011. He received the Order of the Rising Sun, Gold and Silver Star decoration, in recognition of his work promoting cooperation between the United States and Japan in science.
At Carnegie Hall, an Eastman Collaboration
Carnegie Hall was the stage for an Eastman artistic reunion this spring. In April, classical guitarist Peter Fletcher '95E (MM) performed Diary of a Camino, by Jeremy Gill '96E, as part of a concert honoring the 120th anniversary of the birth of composer Federico Mompou. Gill wrote the piece for Fletcher, who recorded Federico Mompou: Guitar Works (Centaur) in 2002. Diary of a Camino was inspired by a walk Gill took along the Camino Francés—an ancient pilgrimage route to the Galician city of Santiago de Compostela, where Mompou lectured.