In Review
ECONOMICS & FINANCE
Simon Takes Manhattan
The business school's annual conference aims to help put Simon on the map in the financial and economic capital of New York City.
By Bob Woods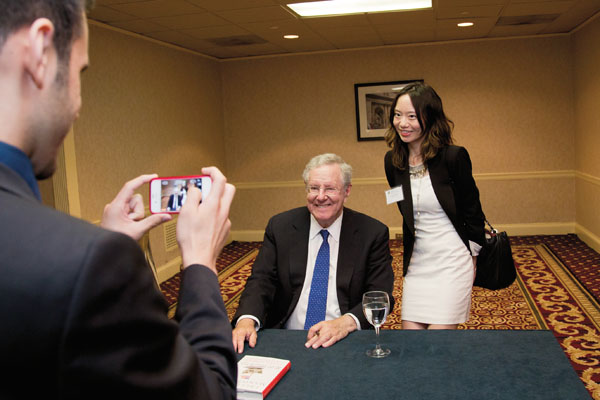 Before taking the stage at the Roosevelt Hotel in midtown Manhattan, media mogul Steve Forbes recognized the positive vibe that can result when a business school gets a foothold in the nation's financial capital.
"The Simon School is gaining a real presence in the world," said the two-time presidential candidate just before stepping to the podium for a keynote address on economics and the media, "and this is the perfect place to do it."
On a blustery morning in May, "this" was an annual New York City conference hosted by the Simon School of Business, and Forbes was one of several high-profile experts, alumni, and faculty members who were invited to share their insights with nearly 400 alumni, students, members of the media, and other finance and economics professionals during the daylong event.
Forbes, chairman and editor-in-chief of Forbes Media, was joined by guest speakers Lou Gerstner, former chairman and CEO of IBM, Charles Plosser, president and CEO of the Federal Reserve Bank of Philadelphia, Paul Singer '66, the founder, CEO, and co-chief investment officer of Elliott Management Corp., and Joan Solotar, a senior managing director and head of external relations and strategy for the Blackstone Group.
Titled "Reform at a Crossroad: Economic Transformation in the Year Ahead," the conference, now in its fourth year, is a key component in a long-term initiative to raise Simon's profile in the Big Apple.
In addition to the conference, the school has launched two master of science degree programs—one in finance and one in management—for working professionals in New York City, and Simon leaders and advisors are evaluating whether other programs could be added in the near future. With nearly 14,000 University alumni and nearly 1,600 Simon alumni, the metropolitan area of New York City—the "tri-state area"—is an important market for Simon.
"New York City is our second home," noted Mark Zupan, dean of the Simon School and professor of economics and public policy, during a break between sessions that he moderated, "and our number-one recruiting base outside of Rochester. As the nation's financial and media capital, New York is critical in our strategic plan to expand the Simon School."
In opening the conference, Zupan emphasized Simon's expanding role in New York City, noting not only the school's academic programs but also the more than 100 Simon and Rochester students in the audience, as well as dozens of alumni on hand.
Many of those alumni were impressed by the range of sessions and the depth of the expertise on display.
"They all want change, but they're still optimistic about the future of the economy," said Jeffery Tomasulo '95, who's enrolled in Simon's New York–based master's program in finance.
Tomasulo chose the master's degree over a traditional MBA as a more practical enhancement to his career as a hedge fund manager with Belpointe Asset Management in Greenwich, Conn. "The Simon School was one of the first to offer a part-time finance program. This gives me the opportunity to get the additional education that I always wanted but didn't have the time to pursue."
Amy Tait '85S (MBA), chairman and CEO of Rochester-based Broadstone Real Estate, said she appreciated the speakers' insights. "This is my second year at the conference, and I came here to learn from them. Plus, it was fun to hear from some of the professors I had at Simon. Ron Schmidt is still as vibrant a speaker as ever," she said of Simon's Janice M. and Joseph T. Willett Professor.
Tait, who introduced Plosser during an afternoon session, also valued the opportunity to network with fellow Simon alumni and meet current students. "I have hired several recent Simon graduates at our company," she says. S
uch opportunities for networking are an important aspect of the conference. Exchanges of business cards and "I haven't seen you in years" were common during intermissions and in between presentations.
"Many of my classmates are here, and I've run into lots of other Simon and Rochester students," said Marty Birmingham, who graduated from the executive MBA program in June. He's the CEO of Five-Star Bank in Rochester, but he recognized the boost that an MBA from Simon can provide, calling it "a milestone in my career."
As both a banker and a student, Birmingham gravitated toward the conference's economics theme.
"The speakers and topics are very germane and current to ones that our industry is facing," he said. "They're applicable, as well, to what we've been learning in the classroom. It's wonderful to see it live."
---
Bob Woods is a freelance writer who frequently covers business issues.