Alumni Gazette
The Business of Books
Literary agent Meredith Goodman Bernstein '68 reflects on reading, writing, and publishing in the digital age.
Interview by Karen McCally '02 (PhD)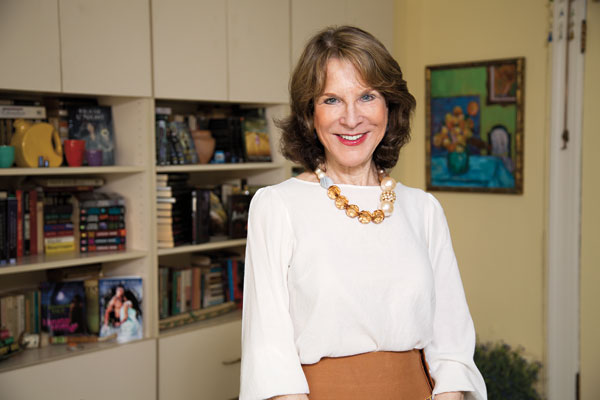 Meredith Goodman Bernstein '68 remembers her first job in the business of books and literature. A clerical assistant for a literary agent in New York City, she was on the job just three months before she landed a client, and made a successful pitch, all on her own.
Leisure Reading: 10 Picks
As a literary agent, Bernstein reads all the time for work. Does she have time to read for enjoyment when the workday is over?
"I do," she says. "It's hard, but I do. It's really something I always loved to do, and I don't want to lose that pleasure just because I have so much I have to read for work."
Bernstein says she reads books that come recommended by others, or books that she reads about and thinks might be intriguing. She also belongs to a book club—a group she joined on a friend's recommendation that employs a professional facilitator and has been meeting since 1997.
She offers a few of her favorite titles.
A Fine Balance by Rohinton Mistry (Vintage International, 2001)
The Brief Wondrous Life of Oscar Wao by Junot Diaz (Penguin, 2008)
Angle of Repose by Wallace Stegner (Doubleday, 1971; Penguin Twentieth-Century Classics, 2000)
The Thousand Autumns of Jacob de Zoet by David Mitchell (Random House, 2011)
Gone Girl by Gillian Flynn (Crown, 2012)
Wild: From Lost to Found on the Pacific Crest Trail by Cheryl Strayed (Vintage, 2012)
Defending Jacob by William Landay (Delacorte, 2012)
Swamplandia by Karen Russell (Vintage, 2011)
Tenth of December by George Saunders (Random House, 2013)
The Yellow Birds by Kevin Powers (Back Bay Books, 2013)
In 1981, she opened her own agency, the Meredith Bernstein Literary Agency. From her office on Broadway, on the Upper West Side of Manhattan (www. meredithbernsteinliteraryagency.com), she's discovered and nurtured authors who are now well-recognized and widely acclaimed.
They include P. C. Cast and her daughter, Kristin Cast, coauthors of the House of Night series of New York Times best-selling teen vampire novels; crime novelist Nancy Pickard; best-selling romance writer Sharon Sala; and others in the fiction, thriller, mystery, and romance genres, as well as in nonfiction.
She says she's always on the lookout for new talent, and since 1986, has endowed the Meredith Goodman Bernstein Prize, awarded annually by the English department to an undergraduate for the best piece of writing in fiction, poetry, or nonfiction. Among the past winners is Benjamin Anastas '91, who later published two novels and most recently, a memoir, Too Good to Be True (Houghton Mifflin).
In her 30-plus years in business, Bernstein has witnessed stark changes in reading and book-buying habits, popular tastes, and in publishers' means of producing and distributing titles. In fact, the printed book—once the definitive product of the joint efforts of authors, agents, editors, and publishers—is today merely one "format."
These changes don't spell the demise of book publishing, Bernstein says, but rather, "only book publishing in the format we've been familiar with."
Should we lament the decline of print publishing?
My personal feeling is that I'm very sad about the demise of book publishing as it was, because I think what bookstores have offered is discoverability. You can walk into a bookstore, and even if no one told you to look at this shelf or that shelf, or this book table or that book table, your eye has drawn you there. When you go to a website and search for things that you think you're looking for, even if Amazon, for example, makes recommendations for you based on your previous searches, the issue is, how are you going to be aware of titles you might see by walking into a brick and mortar store?
But a lot of people don't feel this way. A lot of people feel that there's more product than ever, more choice than ever, and that's probably true.
Has the rise of self-publishing had any notable impact on literary agents? Have you personally experienced any impact?
It's having a big impact. As agents, we're going to have to decide what we can do for clients. Will we be doing more in terms of shaping marketing plans? Will we be doing more editorial work? Not that we haven't been involved in some aspects of that all along, but will we have to be more active?
And what happens when existing clients of mine decide they want to self-publish? If I'm helping them get published, then it's perfectly reasonable for me to get a commission, but if I'm not, should I get a commission or not? And the argument among many agents is, "I've built your reputation for the most part. I got you published for the first time. And I've been nurturing your career all this time."
Why should writers with a book manuscript still seek out an agent?
For many reasons. First, the literary agent is going to make the match. You know all the editors who would possibly like the material. You have personal relationships with them. Then, after you find hopefully more than one person who wants to buy the book, it's your job to be the negotiator and to figure out what's the best possible contract you can get for your client. After that, your job is to follow up on all of the details that go into making sure the book is published properly, making sure it's sold to the foreign rights markets, making sure if it warrants film or television exposure that it gets that. Not to mention chasing down the money, making sure your client gets paid, and keeping track of their payments. It's a lot of detail work.
It's often said the fiction market is in decline. Do you agree?
No, there's nothing wrong with the fiction market. The fiction market is perfectly fine. People do ask me, "Well, what are the trends?" And my answer is, "Look at a best-seller list and that will tell you what kinds of fiction people are being drawn to."
The young adult market has been very hot ever since J. K. Rowling's Harry Potter. Harry Potter really created, I think, the craze for great young adult fiction. And book clubs have played a role—most notably Oprah's Book Club, which was very, very significant. Oprah pretty much created best-sellers with every book she selected. She had a committee to make recommendations, and she would read and select titles from among those. And when I go to writers' conferences, I tell people I'm looking for "Oprah-esque fiction," which is fiction with fabulous characters, written by a wonderful storyteller, with an intriguing voice. These are the things that make great fiction.