Alumni Gazette
COMMENCEMENT
Honorees & Guests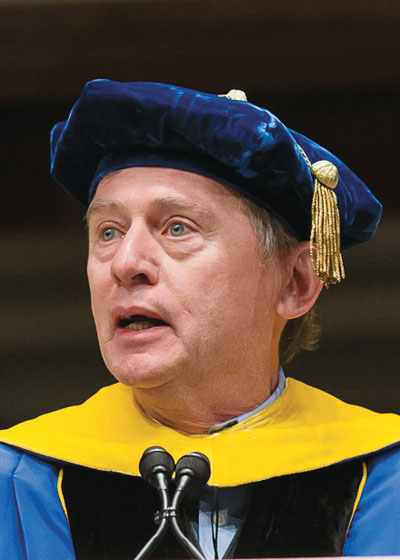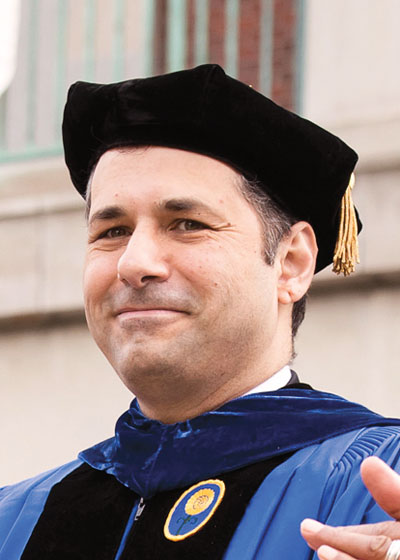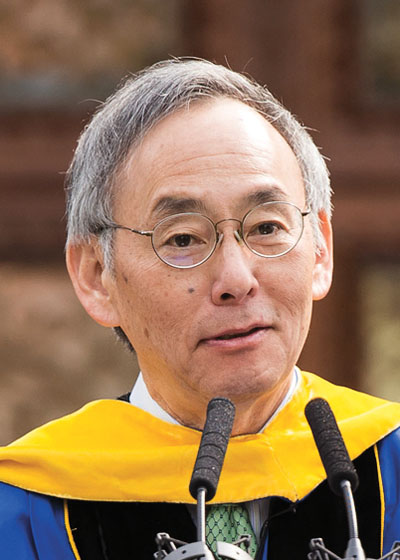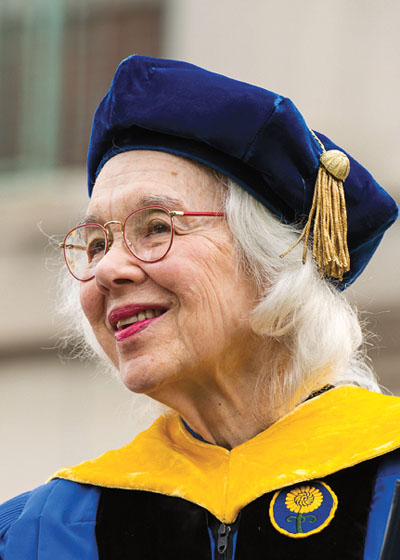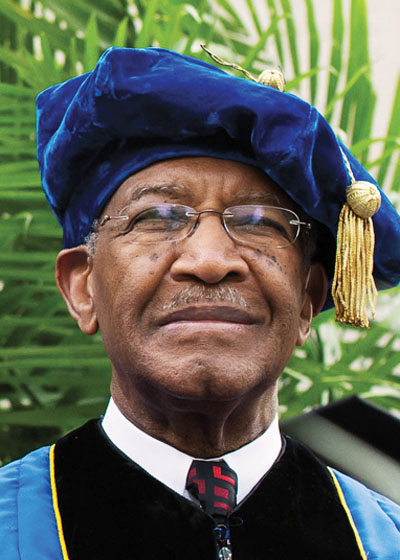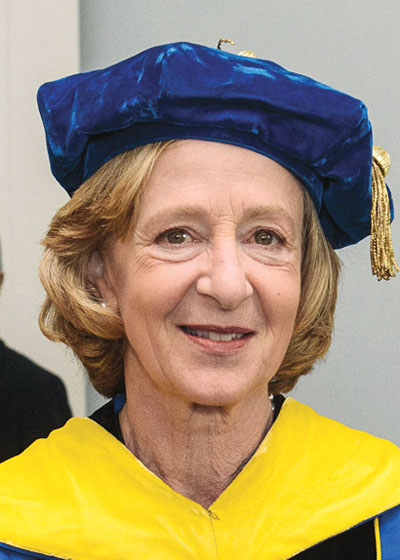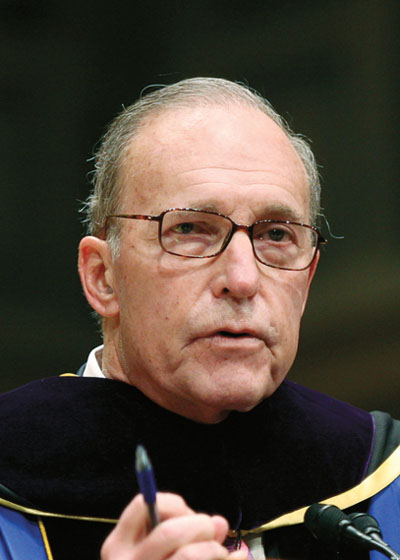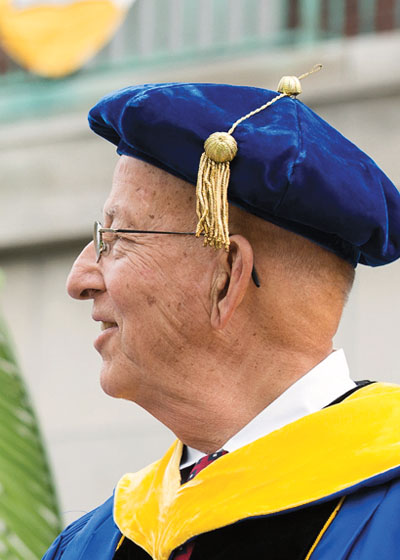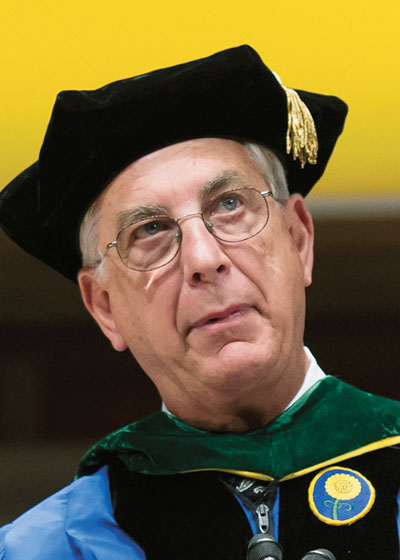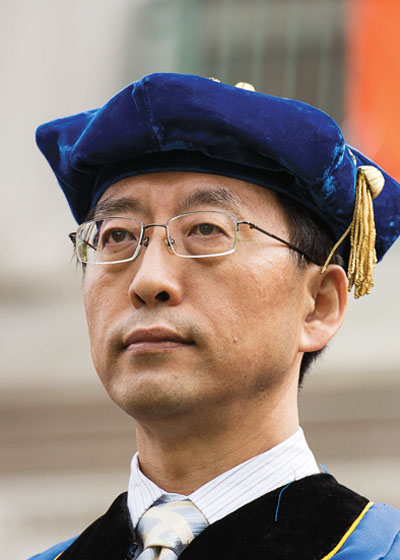 Rochester alumni, faculty, and friends were recognized for their achievement and service during commencement ceremonies this spring.
Arts, Sciences & Engineering
Miguel Alonso '96 (PhD)
Edward Peck Curtis Award for Excellence in Undergraduate Teaching
An associate professor of optics at Rochester, Alonso joined the faculty in 2003.
Steven Chu '70
Eastman Medal
A 1997 Nobel laureate in physics and this spring's commencement keynote speaker, Chu served as secretary of energy from 2009 until last April. Chu received an honorary degree in 1998.
Harold and Joan Feinbloom
George Eastman Medal
Longtime civic leaders and philanthropists in Rochester, the Feinblooms are widely recognized for their support of the arts, education, and community health. They have served in several leadership positions at the Memorial Art Gallery and the Medical Center.
Rev. James Alexander Forbes Jr.
Doctor of Divinity (Honorary)
The Harry Emerson Fosdick Distinguished Professor of Homiletics at Union Theological Seminary, Forbes was the first African American to serve as minister of the Riverside Church in New York City.
Susan Hockfield '73
Doctor of Science (Honorary)
The Marie Curie Visiting Professor at Harvard's Kennedy School of Government, Hockfield served from 2004 to 2012 as the president of the Massachusetts Institute of Technology, where she was the first woman and first life scientist to lead MIT.
Dahpon Ho
G. Graydon Curtis '58 and Jane W. Curtis Award for Nontenured Faculty Teaching Excellence
A specialist in East Asian history, Ho joined the faculty in 2010 as an assistant professor of history.
Norman Leenhouts '56
Charles Force Hutchison and Marjorie Smith Hutchison Medal
Leenhouts is director and chief investment officer of the family-owned Broadstone Real Estate Inc. Along with his twin brother, Nelson '56, Leenhouts founded what is now Home Properties Inc. He is a life trustee of the University.
Jie Zhang
Doctor of Science (Honorary)
Zhang has served as president of Shanghai Jiao Tong University since 2006, when he became the youngest person to lead the Chinese university since 1949. A physicist, he previously held several positions in the Chinese Academy of Sciences.
Doctoral Ceremony
Govind Agrawal
William H. Riker University Award for Excellence in Graduate Teaching
A professor of optics and of physics and astronomy, Agrawal has been a member of the faculty for nearly 25 years. He is also a senior scientist at the Laboratory for Laser Energetics.
John Aldrich '75 (PhD)
Distinguished Scholar Medal
A leading scholar of American political behavior and institutions who's widely known for his book Why Parties?, Aldrich is the Pfizer-Pratt University Professor at Duke University.
Richard Aslin
Lifetime Achievement Award in Graduate Education
The William Kenan Jr. Professor in the Department of Brain and Cognitive Sciences, Aslin directs the Rochester Center for Brain Imaging. He is also a member of the Center for Visual Science.
School of Medicine and Dentistry
Edward Miller '68M (MD)
Charles Force Hutchison and Marjorie Smith Hutchison Medal
Arriving at Johns Hopkins in 1997, Miller was the first CEO of Johns Hopkins Medicine, the 13th dean of the Johns Hopkins medical school, and vice president for medicine at Johns Hopkins until his retirement in 2012.
Simon School of Business
Lawrence Kudlow '69
Doctor of Laws (Honorary)
CEO of the economic research firm Kudlow & Co. and host of CNBC's The Kudlow Report, Kudlow is a nationally syndicated columnist and contributing editor of National Review magazine, and columnist and economics editor for National Review Online.
---
For more about this spring's commencement ceremonies, visit www.rochester.edu/commencement/2013.