In Memoriam
TRIBUTES
Robert Ward '39E: 'Gracious Collaborator'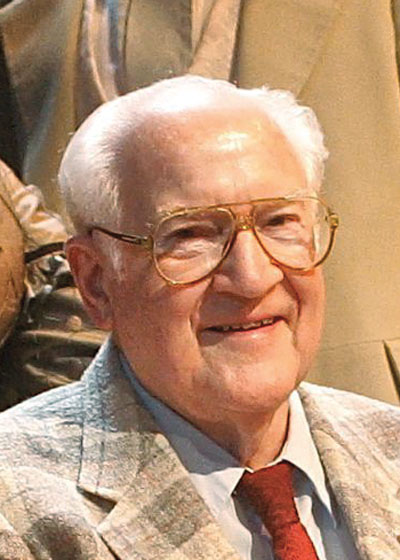 I first met Robert Ward '39E in the early 1990s, while working on a revision of one of his stage works, Lady Kate. This operetta, originally called The Lady from Colorado, was being remounted as part of a festival season of the Ohio Light Opera. Knowing him as the composer of one of the greatest American operas of the 20th century in The Crucible, which won the Pulitzer Prize in Music in 1962, I was interested in seeing the extent of his commitment to a much lighter work.
What I gained from that first collaboration with Robert was first and foremost a great friendship that lasted until his death in April at age 95. His mentorship, advice, and interest in my personal well-being were special to me, but I know that this act of kindness, generosity, and sincerity was repeated countless times with young musicians and artists. With everyone he met in the music profession (and beyond), he made the conversations lasting, personal, and insightful.
This had a direct relationship to his creativity: there was no stone unturned when it came to exploring the choices of every note he composed (from pitch, to rhythm, to sonority). He was relentless in making sure all the possibilities were explored.
Bob was also a strong-minded, but gracious, collaborator. He expected the artistic team producing and executing any of his works to have the same knowledge and understanding of the work that he did when he was creating it. In early 2000 the Ohio Light Opera premiered another lyric theater work of his, A Friend of Napoleon. The productions of Lady Kate and A Friend of Napoleon, and Bob's residencies with the Ohio company, changed the lives of many of the 200 artists who worked on both productions. He took every note and word of these comic pieces seriously. We all recognized that this approach would have a lasting effect on our own creativity.
—Steven Daigle
---
Daigle is chair of the Eastman voice department and director of Eastman Opera Theatre.