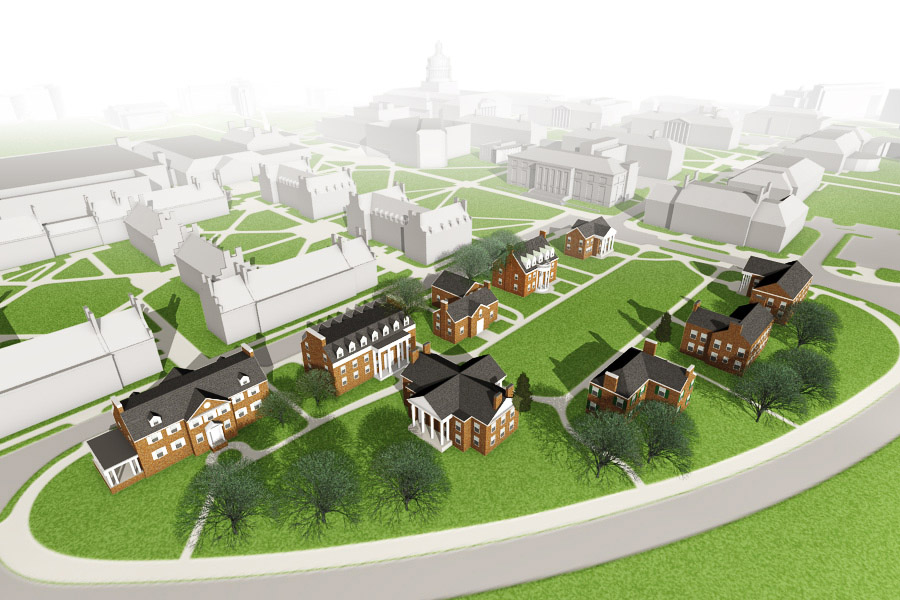 FRATERNITY QUADRANGLE
Refurbishing the Fraternity Quad
Historic quadrangle gets a multimillion dollar facelift.
By Jennifer Roach
Students returning to the Fraternity Quad this fall will notice several changes to the historic quad as six of the houses are receiving a facelift this summer, thanks to a multimillion–dollar investment by the University.
The work is part of an ongoing effort to upgrade and improve the historic buildings of the quad, many of which date back to the 1930s, and to bring many aspects of the buildings' management under the Office of Residential Life.
Upgrades are being made to Delta Kappa Epsilon, Sigma Alpha Mu, Sigma Chi, Psi Upsilon, Alpha Delta Phi, and Theta Chi houses to bring the houses up to Residence Life standards.
Workers are addressing mechanical and electrical problems and roofing issues in the houses, in addition to making the structures compliant with the Americans with Disabilities Act. Students will also notice new paint and floor coverings.
Beginning this summer, the University assumed responsibility for operating and maintaining the houses—a move that will allow the students residing there, and their alumni advisors, to focus solely on the academic, leadership, and philanthropic missions of the organizations.
"I'm delighted to see the work progressing on the Fraternity Quad this summer," says Richard Feldman, dean of the College. "The renovations to the fraternity houses, and the new management plan, will help to secure a bright future for these historically significant buildings on campus and the fraternities that are housed in them."
Moving the properties into the Residential Life system is in accordance with recommendations made by a special Fraternity Quad Task Force—a committee of trustees and student and alumni fraternity members—that met over 12 months seeking constructive solutions to the deferred maintenance issues, while respecting the traditions and contributions to campus life inherent in the Fraternity Quad's organizations.
---