Alumni Gazette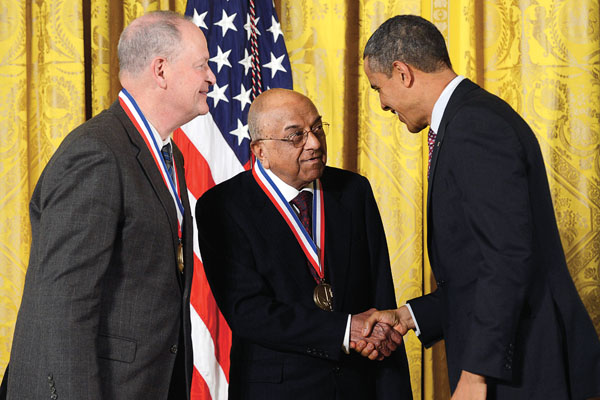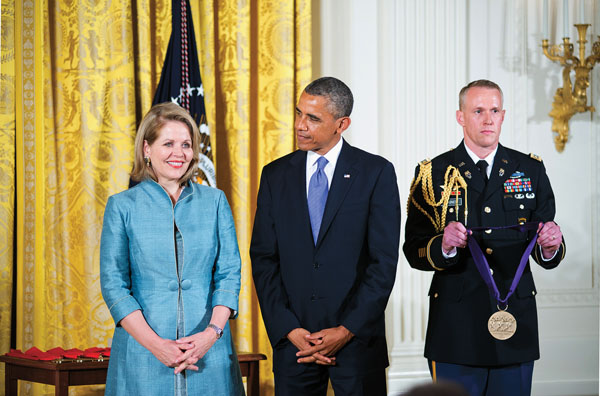 Rochester showed its strengths in the sciences and the arts this year as two alumni were awarded national medals. National medals are presented by the President of the United States on behalf of the American people, and are among the highest honors in the nation for professional achievement.
During a White House ceremony in July, President Barack Obama presented opera soprano Renee Fleming '83E (MM), '11 (Honorary) with the National Medal of the Arts. Fleming, often called the "people's diva," has gained a global audience for her work across genres, from opera to jazz to pop.
In February, Rangaswamy Srinivasan '61 (Flw) received the National Medal of Technology and Innovation from President Obama, also in a White House ceremony. Srinivasan, a physical chemist, made key discoveries as a scientist at IBM Research Center that led directly to the development of laser corrective eye surgery.
TV Star Power
It's a good year for Yellowjackets to tune into the Emmys. Three alumni are among the nominees for Primetime Emmy Awards, the awards for excellence in television given every fall by the Academy of Television Arts and Sciences. The awards will be presented during a televised celebration in Los Angeles on September 22.
Comedy writer Doug Abeles '81 was nominated for outstanding writing for a variety special. Abeles was a writer for Comedy Central's "Night of Too Many Stars: America Comes Together for Autism Programs," a benefit presentation that aired in October 2012 and featured appearances by Jon Stewart, Stephen Colbert, Tina Fey, Tracy Morgan, Amy Poehler, and other celebrities. Abeles, a writer for Saturday Night Live, won an Emmy in 2002 for his work on the late night program.
Composer Jeff Beal '85E, a winner of six previous Emmys, was nominated for outstanding music composition for a series, for the theme music of the Netflix political drama series House of Cards. Beal composed more than 100 minutes of music for the television drama, available on a 2-CD soundtrack.
Photo editor Susan Federman '83E was nominated for outstanding multicamera picture editing on the CBS comedy series How I Met Your Mother. Federman, a winner of two previous Emmys, was the winner of the award in 2012. 
Rocket Man
After weeding through more than 6,000 applications in an 18-month search, the National Aeronautics and Space Administration selected Josh Cassada '00 (PhD) as one of a new class of eight astronaut trainees. The trainees have the possibility to join the first human mission to an asteroid and to Mars. Cassada and the seven other scientists began training in August at NASA's Johnson Space Center in Houston. They join 49 other NASA astronauts.
Cassada, a physicist, is a former Navy test pilot and cofounder and chief technology officer for Quantum Opus, a photonics research firm.