In Memoriam
TRIBUTE
Donald Hess: A 'Silver Fox' for the Laser Lab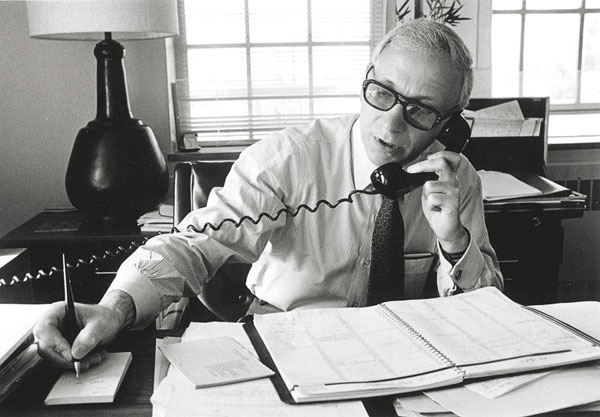 I began working closely with Don Hess when I became director of the Laboratory for Laser Energetics in 1983, and continued working with him until he retired in 1996.
Don, who served as vice president for administration, had been brought to Rochester in the 1970s as vice president for campus affairs by then President Bob Sproull. Don had served with Bob when Bob was the director of the Department of Defense Advanced Research Projects Agency. Don had wide government experience, including having served as director of the Peace Corps under President Nixon.
Bob asked Don to work with the lab's founding director, Moshe Lubin, to develop a corporate sponsorship. Because of Don's intimate knowledge of federal agencies and Congress, Don was instrumental in getting the Joint Committee on Atomic Energy to urge the Atomic Energy Commission to sponsor research at the lab. Without Don, it is unlikely that federal sponsorship of the lab would have ever occurred.
I always thought of Don as the "silver fox." He took pride in "flying under the radar," as he aptly put it. When we went to Washington together, Don trained me to be effective and efficient, but not too prominent. Don could visit more people in Washington in two days than most lobbyists would in a week. Bob Sproull always disdained the use of lobbyists and told me Don was more effective than all the "hired guns."
Trips to the Office of Management and Budget, the Department of Energy, and elsewhere in Washington with Don were very effective in assuring support for the lab. Don always took the high road in advocating research based on achievement.
He also took pride in doing as much as possible at the lowest cost. Don stayed in the cheapest hotels—some with bathrooms down the hall—and used pay phones in the lobbies to avoid the surcharge for in-room phone service. He believed that hard-working parents who paid tuition deserved the best the University had to offer for the least.
When good news came from our advocacy trips, Don eschewed any recognition. His pivotal role in the lab's history was summarized in a document celebrating its 40th anniversary. Don called me and told me that his picture did not belong on the cover of the document with Bob Sproull, Moshe Lubin, Jay Eastman, and me. I told Don it most certainly did, and that was all there was to it. The success of the Laboratory for Laser Energetics belongs as much to Don as anyone.
Don, who died in September at the age of 82, was fiercely proud of the University and the lab, and strongly committed to higher education during his many years on the board of Associated Universities and as a trustee of his alma mater, Franklin and Marshall College. He truly was a silver fox, and an old-fashioned gentleman in the truest and best sense.
—Robert McCrory
---
McCrory is director of the Laboratory for Laser Energetics as well as vice president, vice provost, chief executive officer, and professor of mechanical engineering and physics and astronomy at Rochester.