In Review
ATHLETIC HONORS
Two Named to Classic Hall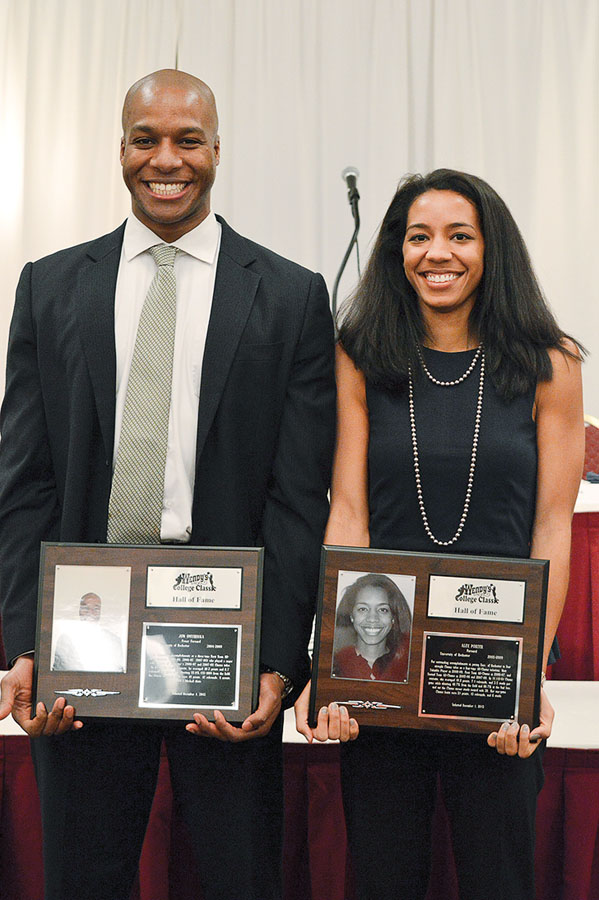 Two Rochester basketball players who helped lead the Yellowjackets to regional and national success have earned recognition from one of the longest-running Division III tournaments.
Jon Onyiriuka '08 and Alex Porter '09 were inducted into the Wendy's College Classic Hall of Fame in December. Onyiriuka is the fourth Rochester men's player to earn induction, while Porter is the first Rochester woman to be honored.
Launched in 1998, the hall recognizes outstanding players, coaches, administrators, and long-time contributors to the event. The men's tournament played its 47th edition in 2013. The women's tournament is 20 years old.
Onyiriuka was a four-year starter for the Yellowjackets, finishing his career with 1,267 points (seventh all-time entering the 2013–14 season), 829 rebounds (fifth), and 109 blocks (fifth) with three appearances in the NCAA tournament.
He's a vice president at BTIG, a financial services firm in New York City.
During her four seasons at Rochester, Porter helped the Yellowjackets to an 88–24 record and advanced to the Sweet 16 of the NCAA Division III playoffs each year. She finished her career as Rochester's all-time steals leader with 295, second in rebounding with 992, eighth in scoring (1,027 points), and eighth in field goal percentage (44.6 percent).
She works with the National Institutes of Health in Bethesda, Md.