Features
Treasures from the Tower
The new director of special collections offers a tour of recent and notable highlights from the rare collections of the River Campus Libraries.
Descriptions by Jim Kuhn | Photographs by Adam Fenster | Introduction by Scott Hauser
When the doors of Rush Rhees Library opened in 1930, the building featured a space on the main floor known as the "Treasure Room." Housed in that small sanctuary were some of the University's historically important documents, original manuscripts, rare books, and other materials.
In the nearly 85 years since then, the collection has grown to more than 100,000 volumes—ranging from a recently acquired vellum roll that dates from 1374 to a nearly 7,000-work collection of first-edition modern poetry and fiction—and more than 600 manuscript collections. Cared for in secured stack spaces on the second floor of Rush Rhees, the "treasures" are now overseen by the Department of Rare Books, Special Collections, and Preservation.
And while scholars from around the world continue to visit the department for their primary-source research in history, biography, and other projects, the stewardship focus of the library's staff has expanded from preserving the material to finding ways to share the one-of-a-kind collections with a wider world.
Several projects in recent years have digitized collections from the 19th and 20th centuries—particularly aspects of Rochester's strong collection of abolition, suffrage, and Civil War materials—and several more projects are under way.
Students around the world can now see Frederick Douglass's handwritten "passes" for the Underground Railroad and view original letters of Abraham Lincoln as he proposed ways to end slavery shortly after the Civil War began.
Making sure that historically important materials are not only preserved, but also available for scholars and students has always been the key reason behind the special collections, says Jim Kuhn, the newly appointed Joseph N. Lambert and Harold B. Schleifer Director of Rare Books, Special Collections, and Preservation. "Our rare and unique holdings are here for use by the campus and greater community," says Kuhn. "Digitization expands our reach, but there is often no substitute for access to the original object in our reading rooms and classrooms."
From his vantage point astride the analog world of historical artifacts and the digital world of technology, Kuhn offers a guided tour of a few selected treasures from Rochester's collections.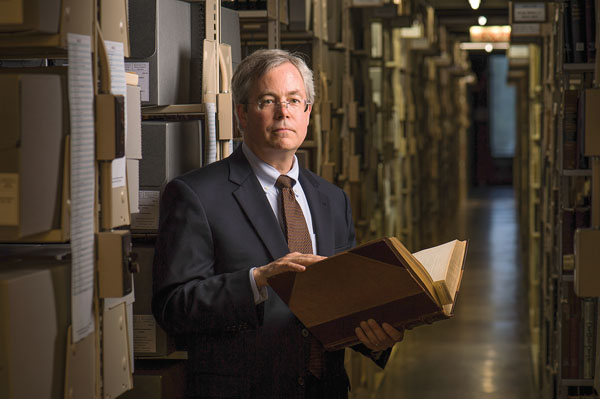 Introducing the Lambert and Schleifer Director
A former librarian at the Folger Shakespeare Library in Washington, D.C., Jim Kuhn was installed this spring as the Joseph N. Lambert and Harold B. Schleifer Director of Rare Books, Special Collections, and Preservation.
The position was named in recognition of a $1 million commitment from Joseph Lambert '59 and his partner, Harold Schleifer. The position plays a key role in the University's efforts to preserve, digitize, and share historic collections.
As an undergraduate at Rochester, Lambert worked in Rush Rhees Library, locating and checking out books—and even tending the fires of the Welles-Brown Room. Schleifer, at 14 years old, shelved books at the New York Public Library. While Lambert went on to become an ophthalmologist, Schleifer pursued a master's degree in library science and eventually became the dean of the University Library at California State Polytechnic University, Pomona.
Kuhn, who earned master's degrees in library science and philosophy at Kent State University, oversaw cataloging, technical services, and collection information services at Folger, where he last served as the interim Eric Weinmann Librarian.
He is a councilor-at-large for the American Library Association.