How to Use the UR Printing System
Quality printing has just been made easier!
You should preview every print job to insure the quality of the job. Neither the library nor University IT offers refunds on print jobs. In the event of a hardware failure, please contact the IT Center at x5-2000, or fill out the Online Service Form.
To preview your print job, click on the file menu, then select Print Preview. An image of the first page of the document will appear on the screen. Click on the Zoom In button to preview the page. Use the Next Page and Prev Page buttons to move from page to page.
Here are the steps you need to follow in order to have the fastest and most efficient printing experience!
PLEASE NOTE: The following screenshots were taken from PC applications. Macintosh screens will look similar to these.
You now have your choice of Black & White or Color printing, simplex or duplex, which you can select from within the application being used (e.g., Word, Excel, Internet Explorer). Depending on the application being used a screen similar to the following will appear: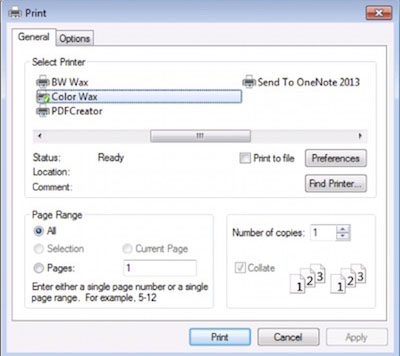 Click the Print button. The following screen will appear: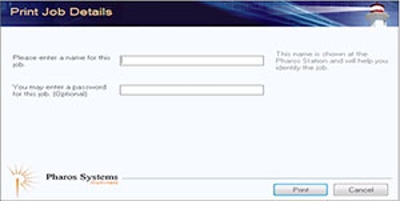 You must name your print job here for easy identification at the Print Release Station where you will release the print job for final printing. An optional password can be entered to guarantee that only you can release the print job at the Print Release Station. The cost of your print job will then be displayed: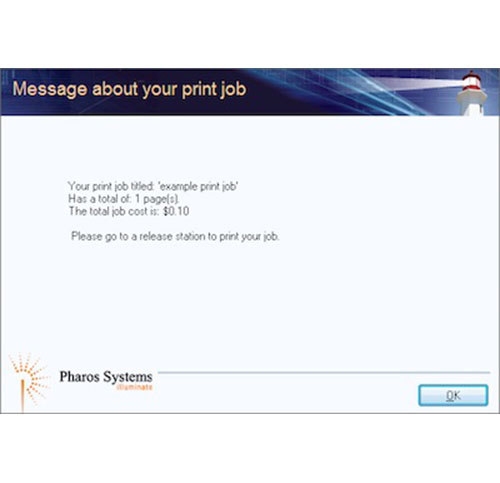 To activate printing, go to a Print Release Station; look for the workstation with the following display: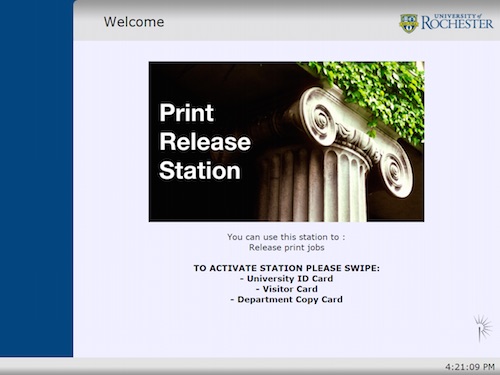 Swipe your University ID or Visitor Card in the keyboard card swipe

Select your print job from the print queue.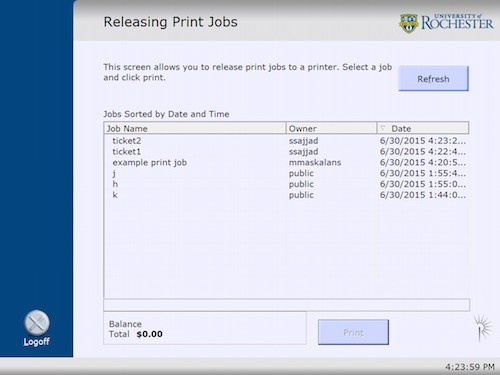 The name of the printer that your print job will be directed to appears on the bottom bar of the Print Release Station screen. Any unwanted "print jobs" are automatically deleted from this queue 4 hours after submission.

Be sure to select "Log Off" after you make your selections to prevent other people from using your Flex or University Visitor Card account! The Print Release Station will automatically "Log Off" in 10 seconds if you forget. All print jobs not selected will purge automatically from the print servers after 8 hours.