Provost's Circle Awards
The Department of Athletics nominates student athletes who exemplify excellence in academics as well as in their sport for recognition as a Provost's Circle Scholar.  Award recipients are honored at a dinner at the Patrick Barry House, the official residence of the Provost.
2016 Provost's Circle Scholars
2016 Provost's Circle Scholars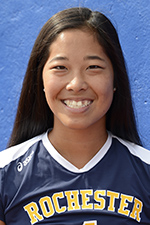 Sayaka Abe
Field Hockey, Chemical Engineering
I'm from a small town called Putnam Valley, NY, about an hour north of New York City. When I was looking at colleges, I wanted to find a school that offered a rigorous academic curriculum as well as a strong field hockey program and the University of Rochester offered just that. While receiving a great education, I get the privilege of competing in one of the most competitive leagues for division 3 field hockey. I loved the passion that every individual shared for the sport when I came and visited, and knew I wanted to be a part of that kind of environment. Aside from being a player, I also am a coach for USA Field Hockey's Futures program for the Rochester U-19 group. I really enjoy coaching and being able to share the skills and game knowledge I've gained with aspiring collegiate athletes. This summer, I will be spending my time working at Merck, as a part of the Global Clinical Supplies and Packaging Technology team. Following graduation, I plan on going to graduate school but eventually I hope to apply my chemical engineering degree in alternative energy technologies.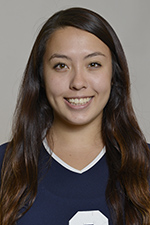 Nina Baek
Volleyball, French
I am from Seattle, Washington. I chose UR because I was interested in pursuing a double major in Linguistics and French and I liked that the open curriculum would not only let me do this, but it would also let me pursue other interests. I have really enjoyed my time at UR and am very proud to be on the volleyball team - it has been a very positive experience and I absolutely love my team. During my time at UR I have enjoyed doing research for linguistics. After I graduate I plan to spend a year teaching English in Rennes, France and traveling before hopefully going into a PhD program for linguistics. Aside from academics and athletics, I like to spend my time outdoors hiking, going to the beach, and of course, relaxing.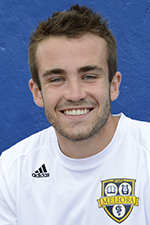 Michael Cross
Soccer, Biological Sciences – Microbiology
I am from Philadelphia, Pennsylvania. I chose to go to the U of R for multiple reasons, including its beautiful campus, excellent academic reputation, and the connection I had with members of the soccer team. I am studying biochemistry, and plan to enroll in an MD/PhD program after I graduate. Other than playing soccer, I enjoy music, spending time with my family and friends, and traveling.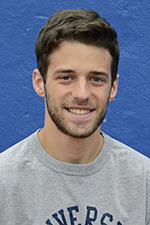 Eric Franklin
Cross Country, Biological Sciences – Microbiology
I am from Mount Laurel, NJ, half an hour outside of Philadelphia. When I was looking at colleges, I knew I wanted to run cross-country and track and that I wanted to study biology, but not specifically which field. I was drawn to the flexibility of the Rochester Curriculum, the university's reputation for undergraduate research opportunities and, of course, the chance to run for Rochester's competitive cross-country and track teams. I decided to pursue a BS in Microbiology with a minor in international relations.
In my free time I play the piano and write humor articles for the Campus Times, and have worked several jobs around the university–at the UR Sports Information Office, in the Biology Department, and in a neuroscience lab at Strong Memorial Hospital. This semester I am studying abroad at Uppsala University in Uppsala, Sweden. Last semester I was accepted into the Take Five Scholars Program to study Russian Studies, so when I return from abroad I will have two more years before I graduate, after which I intend to pursue my doctorate and perform biological research at a major research university as a career.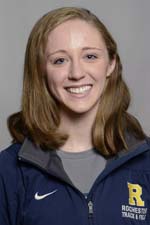 Laura Lockard
Track, Biological Sciences – Microbiology
I am from Athens, Pennsylvania, a small town nestled right on the border of Pennsylvania and New York. I decided to come to the University of Rochester because it won me over with its friendly student atmosphere and support of undergraduate research. Another major attraction for me was the fact that UR was one of the few institutions that carried a major for my field of interest: microbiology. After graduating, I am hoping to continue on to medical school to pursue a career in medicine. In addition to track, I serve as a workshop leader for biochemistry and I participate in immunological research at the University of Rochester Medical Center. I am also a member of the Society of Undergraduate Biology Students and enjoy spending my free time reading, drawing, and drinking coffee.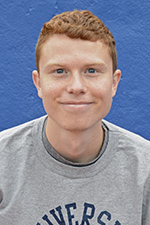 Daniel Nolte
Cross Country / Track, Biological Sciences – Microbiology
I'm a junior math and economics major originally from Woodbury, Connecticut. I chose to attend the U of R largely because of the strong reputation of its economics department, but also because of an exceedingly positive experience with the cross-country team and coaches on my athletic recruiting visit. After graduation, I hope to study public and fiscal policy at a university or research organization, and eventually conduct research, which contributes to the economic empowerment of disadvantaged populations within the U.S and abroad. Apart from track and cross-country, I also enjoy reading and writing, and serve as the Vice President of the Undergraduate Writing Fellows on campus. I'm truly proud to compete as a varsity athlete at a school that I love, and I look forward to watching the U of R track and cross country programs grow for years after I graduate.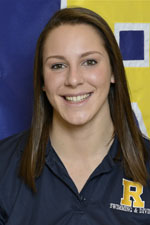 Emily Simon
Swimming, Brain & Cognitive Sciences
I am from Portville, a small town in Western New York. I chose the U of R because of the flexible curriculum and beautiful campus. I was fortunate that coming here also meant I was able to swim because continuing athletics after high school was not originally my plan. Swimming has become one of the best aspects of my time here, and I can't imagine my collegiate experience without the friendship and support of my teammates and coaches. Besides swimming, I enjoy tutoring students at a local elementary school and taking part in psychology research here at the University. Upon graduation, I intend to take a gap year and apply to medical school in hopes of pursuing a career in psychiatry, specializing in forensics.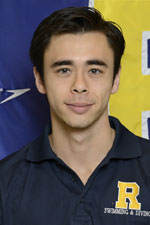 Naoki Toyomura
Piano Performance and Economics, Swimming
I am from Auckland, New Zealand. I came to Rochester as an Eastman student but after enjoying Professor Rizzo's intro Econ class, I decided to add another degree which has been highly rewarding. I chose Eastman because it is one of the world's best music conservatory with excellent faculty and academics. Furthermore, I knew that Eastman as part of UR would give me plenty of opportunities. Being an Eastman/UR student has been fantastic, it has allowed me to take great courses, allowed me to play a sport at the varsity level and has provided me with a valuable network of friends - resulting in me giving concerts in Alaska and Zimbabwe. When not studying, practicing or training, I enjoy watching rugby and soccer, watching comedy, reading, and hanging out with mates. Upon graduation I intend to work in finance.