Provost's Circle Awards
The Department of Athletics nominates student athletes who exemplify excellence in academics as well as in their sport for recognition as a Provost's Circle Scholar.  Award recipients are honored at a dinner at the Patrick Barry House, the official residence of the Provost.
2015 Provost's Circle Scholars

SANDRA AU
Track, Biological Sciences/Neuroscience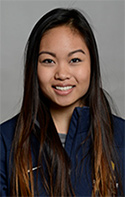 I'm from Henrietta, New York, a town right outside of Rochester. Having competed in track and field for many years, I was excited to have the opportunity to continue on into college and become a part of a close knit group that motivates each other both on and off the track. I have found that in my teammates at the University of Rochester.
In choosing a university to attend, the challenging yet flexible academics and the rich history and tradition woven all over this campus contributed to my decision to call the University of Rochester home. I'm pursuing a B.S in Neuroscience with minors in psychology and chemistry and hope to attend medical school in the future. Currently, I further explore my interests about the brain as a research assistant in a translational neuromedicine lab and as well as a lab conducting research on internalizing disorders. Outside of athletics and academics, I enjoy learning about different cultures through food and art with fellow sisters in the women's fraternity Phi Sigma Sigma, seeking out live music experiences and a quality cup of coffee.
NICOLE CERZA
Field Hockey, Psychology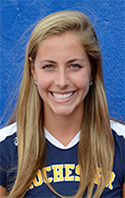 I am from Clarence, New York. I chose the University of Rochester for many reasons, with the main one being the open curriculum. I also am a part of the Field Hockey team here so that influenced my decision to attend the U or R. I am double majoring in Brain and Cognitive Sciences and Psychology. My other main interest is field hockey, and I would say that is my second biggest commitment, academics obviously coming first. I have played sports my entire life, and it is a true privilege to continue my career into collegiate athletics representing a school I love. As of now, I aspire to become a psychiatric or pediatric nurse practitioner, so graduate school is definitely something in my future. 
GABRIELLE DIANGELO
Soccer, Political Science/Psychology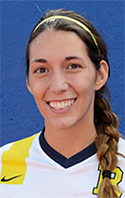 I am from Hunt, NY which is near Letchworth State Park. I chose to attend the University of Rochester because I love the educational opportunities provided to students and the freedom students have to explore any subject that interests them. The entire soccer program made me feel welcome and comfortable, and helped me realize how great of a home the University of Rochester would be for me for the next four years. The top level academics and athletics at Rochester helped make the decision easy for me. I am triple majoring in Philosophy, Psychology, and Political Science. I am also a member of VSAAC. After graduation I plan on attending law school, and hope to eventually become a judge. I thoroughly enjoy learning about all the monumental court cases in our country as well as learning more about the inner workings of our legal system. In between soccer and studying, I enjoy doing yoga, hiking, and kayaking.
ERIN FINNERTY
Swimming, Biological Sciences / Molecular Genetics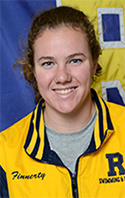 I am from Solon, OH, a suburb of Cleveland. I chose the University of Rochester because of its reputation as a good science school and the cluster system, which has allowed me to take only the classes I have been interested in throughout my college career. The swim team and coaching staff is another reason I picked this school. I knew I wanted to swim in college and I love the team atmosphere that I have found here at the U of R. I am majoring in Molecular Genetics with a minor in Chemistry and clusters in Economics and English. I work in a biology lab with Dr. Sina Ghaemmaghami studying how cells cope with aggregated prion proteins. This summer, I will be participating in a medical research internship in London, UK. On campus, I am also involved in the STEM Initiative, which is a group that travels to local middle schools to preform science experiments with the kids in order to build relationships with them and to inspire them to pursue higher education in the STEM fields. Aside from academics, I enjoy being a distance swimmer on the U of R Swimming and Diving team. In the off-season, I run and participate in triathlons. After I graduate, I plan on attending medical school to become a pediatrician.
JEREMY HASSETT
Cross Country/Track, Audio and Music Engineering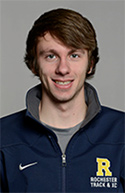 I am from Newark, NY, which is a small town about an hour's drive east of Rochester.  The main reason I decided to attend the University of Rochester was the university's emphasis on maintaining an extremely flexible curriculum.  Prior to coming to college, I had many academic interests and was not sure exactly what discipline I wanted to pursue.  I knew, however, that if I came to Rochester I would be able to experiment and find the right major.  And that's exactly what I did.  I am currently pursuing a major in Audio and Music Engineering and a minor in Optics.  I recently added the minor in Optics after becoming interested in the subject while serving as a research assistant at the Laboratory for Laser Energetics.  I have worked on various research projects at the lab for over a year now and will likely be applying to graduate programs in the field of optics or physics in the fall.  Aside from academics, I have found many other interests on campus.  I have participated in Varsity Cross Country and Track and Field for the past three years.  It is through this activity that I have made my best friends and memories in my time at Rochester.  After I graduate, I plan to pursue a doctorate program in either optics or physics.  I hope to someday work in a research environment and conduct my own research. 
JEFFREY HREBENACH
Track, Economics/Computer Science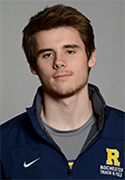 I am Jeffrey Hrebenach, from Saratoga Springs, New York. I chose to come to the University of Rochester because of its strong academic reputation. I am planning on completing a double major consisting of a B.A. in economics and a B.S. in computer science. Aside from academics, I am involved in a few other activities around campus. I am a member of the varsity track and field team, where I compete in the short sprints and the long jump. I am on the executive board of our school's chess club. I am also an employee at the athletic center, where I hold the position of team leader of the building managers. Although I am unsure as to what I'll do after graduation, I am currently leaning towards graduate school.
ANYA JOYNT
Cross Country/Track, Biological Sciences/Molecular Genetics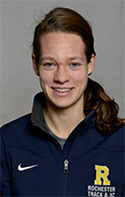 I am from Guilderland, NY, which is a suburb of Albany. I chose the University of Rochester because I wanted to major in Molecular Genetics and the U of R is one of only a few schools in the Northeast offering a Molecular Genetics track. I was also drawn to the school for its emphasis on undergraduate research. In addition to being a member of the Cross Country and
Track and Field teams here at Rochester, I am also involved in the Catholic Newman Community as a captain of a Catholic athletes' community service group called the St. Sebastian Society. One of my favorite things about the U of R is how passionate everyone is about their interests and all of the opportunities we as students have to pursue these passions. Personally, I have been able to take advantage of the many resources Rochester has to offer by taking piano lessons at the Eastman School of Music and working in a Biology lab on campus doing independent research. After receiving my Bachelor's degree I plan to continue on to graduate school to pursue a career in genetics research.
CATHERINE KNOX
Track, Mechanical Engineering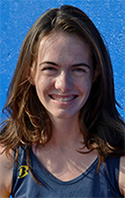 My name is Catherine Knox and I'm from Worcester, Massachusetts. I chose to come to Rochester because it is a small school but still has a wide range of majors and clubs.  I also liked how everyone I met was really enthusiastic about something. I'm majoring in mechanical engineering, and after college I hope to go into something related to renewable energy.  Outside of school I enjoy running and I am member of the cross country and track teams.  In my free time I enjoying doing anything that involves getting outside.
BENJAMIN SHAPIRO
Tennis, English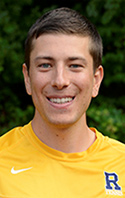 I am from Scarsdale, New York, in the suburbs of New York City. I decided to come to U of R for several reasons. The academic freedom was very appealing, because coming into college I really wasn't sure what I wanted to study, so having the chance to take a lot of different classes was great for me. Additionally, I felt like the school would be a good place for me to make the most of my experience as a college tennis player. Having four indoor courts on campus to use throughout the winter is rare for Division III schools, and it seemed like an opportunity that I should not pass up. Additionally, getting to compete in the UAA conference against many of the best teams in the country also swayed my decision to come to Rochester. I am an English major on the Language, Media, and Communication track, and in addition to my classes I also write articles for the Campus Times and the UR Athletics website. Some of my other interests are cooking, going to farmers markets, and following professional and collegiate sports – especially tennis. Even once my own career as a college athlete ends, I plan on sticking with tennis in one way or another. I've learned innumerable life lessons through the sport, and I would love to be able to pass those along and help others reach their goals, possibly as a coach. During my time at U of R I've learned how important it is to pursue your passions, and for this reason I think tennis will always be a big part of my life.
JEFFREY WEINFELD
Football, Chemical Engineering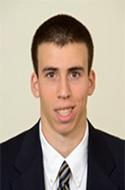 I am from Newton, MA, a city just west of Boston. When choosing colleges, I was looking for a school with rigorous academics where I could continue playing football. University of Rochester fit the profile. At the time, I was not sure what I wanted to study and the course flexibility of UR was very appealing. At school, I quickly found my passion was in engineering, and chose chemical engineering because chemistry was my favorite class in high school. While I quickly realized that there was not much chemistry in chemical engineering after all, it turned out to be the right decision. I currently participate in a chemical engineering computational fluid dynamics group, the biodiesel production club, and I also perform undergraduate research investigating the crystallization of hard spheres. I was also admitted into Tau Beta Pi engineering honor society this past fall. I am currently investigating the opportunities that different graduate engineering programs offer after college. I enjoy football because of the intense, physical nature of the sport, which provides a perfect release from the stresses of school. From balancing a varsity sport and schoolwork, my time management skills and work ethic have improved, helping me achieve my academic goals. Outside of work and playing football, I am a huge Boston sports fan, and follow the Patriots and Red Sox closely. I also enjoy exercising, and am frequently at the gym in addition to all my football workouts. Other interests are watching movies and TV series, playing video games, and spending time with friends on the football team.