Provost's Multidisciplinary Award Symposium
October 12, 2012
2:00 pm – 3:30 pm   
Reception: 3:30 pm – 4:30 pm
Location:  209 Computer Science Bldg. 2nd floor (plaza level)
in the Carlson Library Bay Window area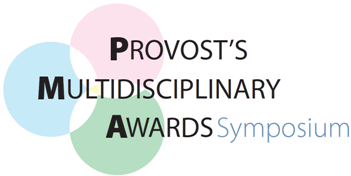 The Provost's Multidisciplinary Awards were created in 2008 "to invigorate and nurture multidisciplinary scholarship at UR… consistent with the motivation to be 'ever better.'"
Since 2008, twenty-seven separate interdisciplinary research and scholarship teams have received support for collaborative projects. The results of each group's work are presented in a public symposium in the year following their award.  At the symposium's conclusion they are honored, along with the newly named recipients of the current year's awards, at a reception hosted by the Provost.
The 2011 awards went to five groups of faculty who crossed fifteen disciplines and five of the University's six schools to explore topics including: drug evaluation; the use of social media in advertising and political campaigns; the impact of auditory interference on perception of music and language; diagnostic techniques combining physics with medical imaging; and cell phone-based systems for self-management of asthma in adolescents. 
In 2012 five new projects will be launched, crossing four schools and creating intersections between twelve separate disciplines including pediatrics, education leadership, music theory, brain & cognitive sciences,  chemical engineering, psychiatry, cardiology, biomedical engineering, chemistry, community & preventive medicine, pulmonary medicine and microbiology & immunology.   
For questions regarding accessibility or other special considerations, contact karen.johnson@rochester.edu or 275-2566.