Incoming Freshmen
D'Lions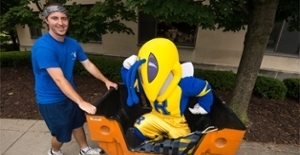 The D'Lions are a student group that helps freshmen adjust to campus life and also organizes events for River Campus.
Working with residence halls and staff, they provide a comfortable living atmosphere on their halls and promote community spirit within the residence halls and the University as a whole.
The D'Lion organization sponsors multiple blood drives, participates in many community service projects, and plans programs that the entire campus can take part in.