Incoming Freshmen
Freshman Fellows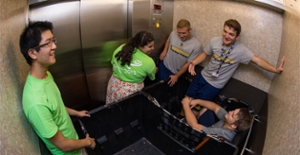 Freshman Fellows are specially selected upperclass students interested in living in freshman areas and serving as role models. They offer mentorship and guidance to the students of their hall.
Freshman Fellows actively participate in orientation activities, trainings, and monthly staff/committee meetings. They plan activities for their hall as well as participating in special events and social committees.
Applications for Freshman Fellows coincide with the annual Room Drawing process in the spring.