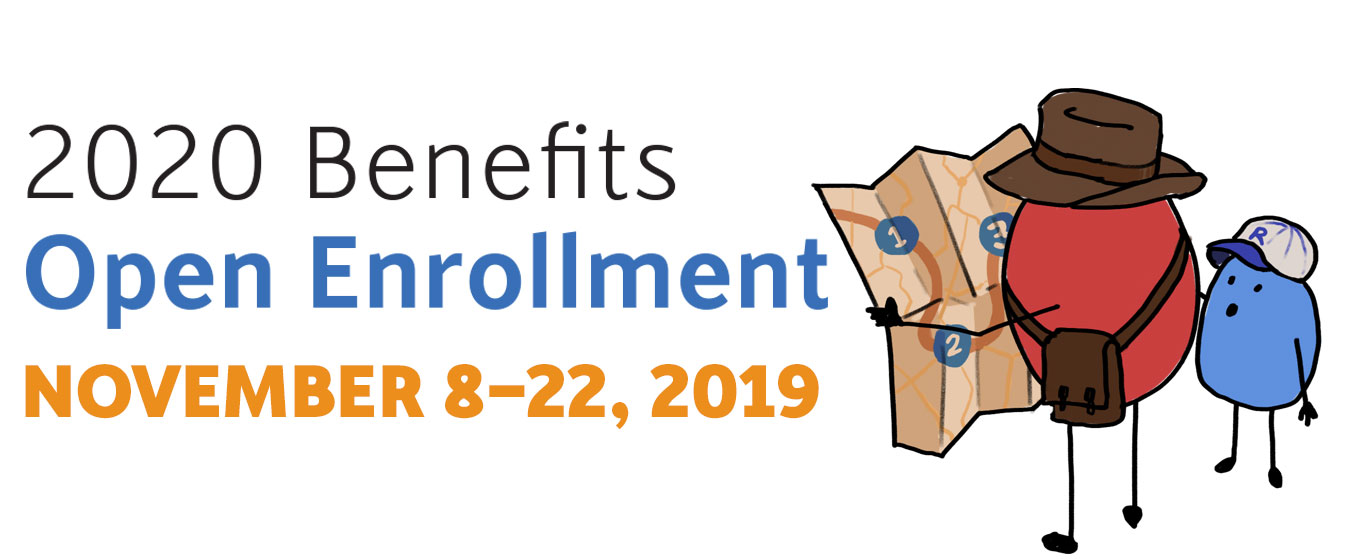 The Open Enrollment Period has ended as of November 22, 2019. New hires should see below for specific information pertaining to enrollment deadlines.
If you are a new hire with a hire date between November 18 – December 1, 2019, you have 30 days from your hire date to complete your New Hire elections for 2019 benefits and Open Enrollment elections for 2020 benefits.
If you are new hire with a start date on or after December 2, 2019 your benefits are effective as of 1/1/2020.
The information on this page is specific to 2020 benefits. 2019 benefit details can be found using the Total Rewards website.
3 Easy Steps to Complete Your 2020 Benefits Enrollment
1. EXPLORE your options
Review your current benefits and expenses in order to make the best decisions during 2020 Open Enrollment:
2. ENROLL in your 2020 benefits
November 8-22, 2019: make your Health Care, Dental, Flexible Spending Accounts (FSA), Health Savings Account (HSA), VSP Vision Care, Hyatt Legal Plan, and Life Insurance elections for 2020.
3. ENJOY!
Watch for your confirmation statement in the mail in December, 2019.
While you're here, take a look at the other benefits available to University of Rochester employees such as the Retirement Program, Well-U, Tuition Benefits, Home Ownership Incentive Program and more!
Which Plan is Right for Me?
Helpful Information
Forms
2020 Group Universal Life (GUL) Insurance Application
Life Insurance Change Request Form
Beneficiary Designation and Change Request Form
Employees are encouraged to use HRMS for all health, dental, FSA and HSA elections. Forms can be supplied by request only by emailing Totalrewards@rochester.edu.
Tools & Videos
Benefit Scout™ - Securian's interactive life insurance decision tool you and your family determine how much life insurance you need and how much it will cost.
2020 Open Enrollment Webinar – Open Enrollment Overview will give you a basic understanding of the benefits we offer and how to enroll.
Additional Videos: Find more specific information on health care plans, HSAs, FSAs, and the Life Insurance Plan options.
Frequently Asked Questions
Find answers to 2020 Open Enrollment Frequently Asked Questions about updates to the plans and the enrollment process.
Still have questions? See our Total Rewards FAQs to answer general questions on Health Care Plans, FSAs, HSAs, Dental Plans, Life Insurance Plans, Hyatt Legal Plans, VSP Vision Care, Wellness, and more.
Newsletters
You should have received an Open Enrollment newsletter within the folder you received in the mail or within the email you received mid-October (for those enrolled in e-delivery). If you haven't read it yet, please take a moment to read the newsletter that applies to you. Please note that Open Enrollment has changed to November 8-22.
Open Enrollment Communications
Can't find an email? Check out all of the Open Enrollment Communications that have been sent out, updated every week!
Still have questions? Contact-URHR!
Phone: 275-8747
Email: ask-urhr@rochester.edu
Hours: M-F, 8a.m. – 5p.m.