Hopeman Memorial Carillon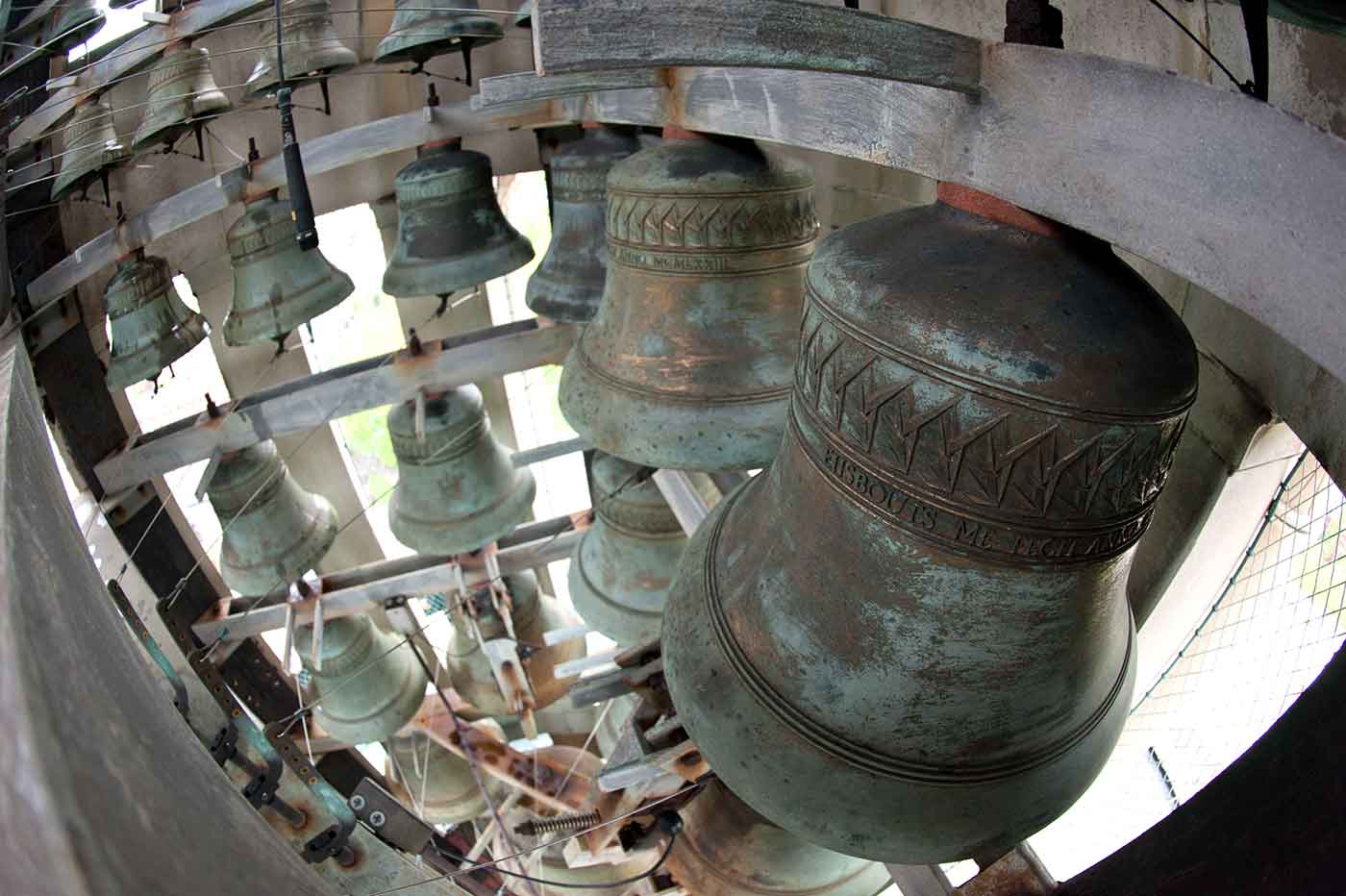 Concert Schedule: Fall 2016
East Asian Autumn Festival ring
Friday, Sept. 23 at 5 p.m.


East European ring
Sunday, Sept. 25, 12:30 – 1:30 p.m.


Meliora Concerts
Listen across the River Campus as the Carillon Society performs Rochester school songs Dandelion Yellow and The Genesee, along with music from East Asia, East Europe, Africa, the Mediterranean, and traditional American to represent our students' diverse backgrounds; themes from favorite anime, video games, and movies; and exquisite classic carillon repertoire showing off the magnificent beauty of the bells.
-Thursday, Oct. 6 at 6 p.m.
-Friday, Oct. 7 at 5:30 p.m.
-Saturday, Oct. 8 at 12:30 p.m.
Halloween Scare Fair
Friday, Oct. 28 between 1:30-4:30 p.m.


Veterans Day Tribute
Thursday, Nov. 10 at 5 p.m.; Friday Nov. 11 at 5 p.m.


Holiday Concerts
Sunday, Dec. 11 at 12:30 p.m. & Tuesday, Dec. 13 at 5 p.m.
Concerts are subject to change.
New! Student rings
Starting this semester, Carillon Society & MUR 104 students will ring Tuesday lunchtime 12:30-1 p.m., Thursday morning 9:15 a.m. -9:40 a.m., and 5 p.m. Monday–Friday (exception Wednesday 7:30-8:30 p.m.) weekly. Specifically:
Sunday at 12:30-7:00 p.m., MUR 104 instruction
Monday at 5-5:45 p.m., Carillon Society ring (CS)
Tuesday at 4:30-10:00 p.m., MUR 104 instruction; 12:30-1 p.m. CS lunchtime ring with school song
Wednesday 7:30-8:30 p.m., CS ring, 8:30-9:30 p.m. (occasional for rehearsals)
Thursday  9:15-9:40 a.m. - CS morning ring; 5-5:45 p.m., CS ring
Friday 5-8 p.m., MUR 104 instruction
---
Keep the bells ringing...
After 40 years of use and exposure to Rochester weather, our carillon is in serious need of maintenance and renovation. Bolts are rusting, leather attachments are cracked, clappers need replacing. The bells can no longer be played at temperatures below freezing.
Repair costs are estimated at $130,000. The Hopeman Carillon Fund has been established to cover these costs. A generous donor is offering to match up to $50,000—any help you can provide will be doubled.
Donate online (on the form, denote the gift as "other" and enter "Hopeman Carillon Fund"). Or, mail your check to:
Alumni and Advancement Center
c/o Cherith Meeks
300 East River Road
P.O. Box 278701
Rochester, NY 14627 -8701
The Carillon Society and the University thank you for your support!

Learn more - download the updated brochure (June 2015)

Carillon expert Rick Watson discusses the impact of weathering on the Hopeman Memorial Carillon
The Hopeman Memorial Carillon, a set of bells played from a keyboard and pedalboard, hangs in the tower of Rush Rhees Library. It is one of only seven carillons in New York State. At 50 bells, it is considered a large carillon; by comparison the world's largest carillon in Bloomfield, Michigan has 77 bells. Carillonist Doris Aman and her students perform frequently throughout the year and especially to mark major university events.  Contact Doris at doris.aman@gmail.com.
Interested in playing the carillon? Community residents may now take lessons at Eastman Community Music School. ECMS offers their community of music students a carillon tour once each semester to see the carillon close up. Space limitations apply.
For more information or to make a donation, contact Jimmy Warlick in the Music Department at (585) 275-2828.

A view up the bell tower...
Learn more about
our carillon

Pull-out illustration as seen in Rochester Review
(July-Aug 2012) (.pdf)
Hand-drawn diagram of the bell tower (.jpg)
Keys and frequencies of the carillon keyboard
(.pdf)
---