Scholarship Donors and Students Celebrate at University-Wide Dinner
For the fourth year in a row, donors of endowed scholarships and the students they support gathered at the University of Rochester's Celebration of Scholarships dinner. Approximately 200 people attended the April 22 event, which was held in the M&T Ballroom at the Memorial Art Gallery. Among those present were President Joel Seligman, Board Chairman Emeritus G. Robert Witmer Jr. '59, and Provost Peter Lennie, the Robert L. and Mary L. Sproull Dean of the Faculty of Arts, Sciences and Engineering, along with deans from the School of Arts and Sciences, Eastman School of Music, Hajim School of Engineering, the School of Medicine and Dentistry, the School of Nursing, Simon School of Business, and Warner School of Education.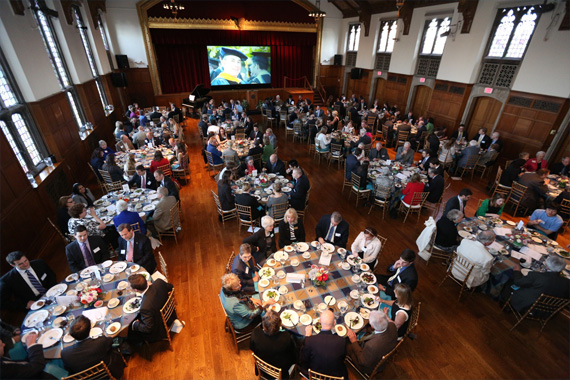 Close to 200 scholarship recipients and their donors were inspired by student speakers and performers, University leadership, and the generosity of scholarship donors from across the University.

University Life Trustee Karen Noble Hanson '70 was a featured speaker at the event. In the 1960s, Hanson's parents, former University Trustee Joseph Noble '34 and Kathryn Cromwell Noble, established four endowed scholarship funds in honor of various faculty members. In 1991, Karen endowed a scholarship at the Eastman School of Music in memory of her parents. Over the past 20 years alone, her family's scholarship funds have aided more than 100 students at the University of Rochester.
Several students spoke or gave performances during the evening. Galen Dole '14, recipient of the Halee and David Baldwin Undergraduate Scholarship, and Nathaniel Bayer '15M (MD), recipient of the Carl B. Emerson Memorial Scholarship and the Hugh Hayward MD '55 Endowed Scholarship, each told how their lives had been changed and their dreams fulfilled by the scholarships they received. Soprano Joel Dyson '14E, recipient of the William Warfield Endowed Scholarship, performed two pieces accompanied by Haeyeun Jeun '08E (MM), '13E (DMA). The River Campus Jazz Quartet provided entertainment during the reception preceding the dinner.
Scholarship support is among the highest priorities of The Meliora Challenge: The Campaign for the University of Rochester. Scholarships help Rochester attract high-performing students, shape a diverse learning community, and educate society's future leaders. They also ensure that every qualified student can afford to attend the University of Rochester, regardless of their financial circumstances.
For more information about endowed scholarships at the University of Rochester, please contact the Office of Stewardship at (585) 273-4645.