Inaugural Dinner Celebrates University-Wide Endowed Scholarship Donors and Recipients
"I've been aware of the importance of scholarships since the beginning of my career. I could not have attended a private school as an undergraduate nor medical school at the University of Rochester without scholarship support. When you give money, you hope to see results. The return on an investment in endowed scholarships is very great. For instance, if you support our talented students who go on to have successful careers in medicine, what else can match it?"

--C. McCollister Evarts
'57M(MD) '64M (Res)
Distinguished University Professor, University of Rochester
(Pictured below with two of his scholarship recipients)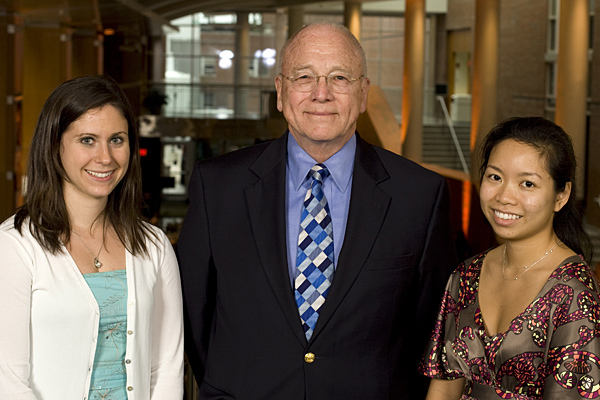 "I never wanted future salary considerations to have an impact on my medical school studies. Fortunately, because of Dr. Evarts, they have not. My decision to go into pediatrics is based purely on my passion for caring for sick children, and I am forever grateful. I know I speak for other scholarship recipients when I say that thanks to the generosity of donors, many of us will graduate without having to face a huge debt burden."

--Emily Berkman '11M (MD)
(Left, above)
The first University-wide Endowed Scholarship Dinner brought together generous donors of endowed scholarships with accomplished scholarship recipients for an evening of recognition and celebration on April 8.
Speakers included President Joel Seligman and endowed scholarship supporters Board Chair Ed Hajim '58 and Trustee Gwen Greene '65. Students Emily Berkman '11M (MD), recipient of the C. McCollister Evarts Scholarship and André Washington '10E, recipient of the Mildred Carruth Duengfelder Scholarship, also spoke at the event, which took place in Rochester at the Sarah Flaum Atrium at the Medical Center. Washington also performed two pieces for flute during the program.
Scholarships are crucial to the University, attracting and retaining the brightest and most talented students regardless of their economic background. These funds help alleviate the prohibitive burden of student loans, ensuring a diverse learning environment and enriching students' University of Rochester experience.
Especially during these challenging economic times, scholarship support is critical. Donors who are able to endow a scholarship provide funds in perpetuity and create a legacy of educational opportunity. In addition, all gifts to the annual fund, regardless of their size, have an immediate impact and make a real difference every day — from providing student scholarships to supporting outstanding faculty, academic excellence, arts and cultural programs, medical research and health care, and more. Through gifts of $1,500 or more each year, members of the George Eastman Circle, the University's leadership annual giving society, provide sustaining scholarship and other essential student support.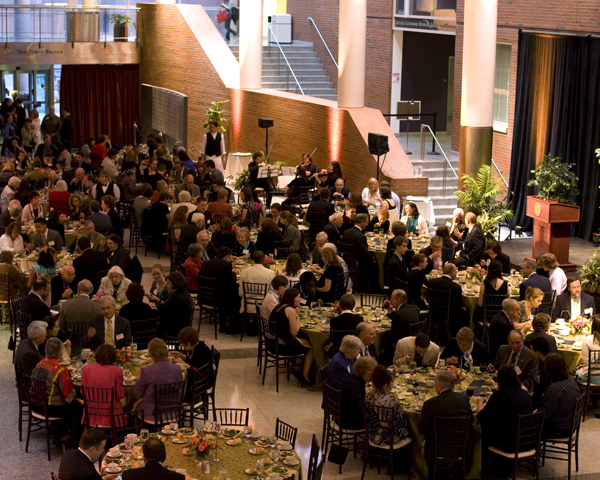 Click to view a photo gallery of the Scholarship Dinner
For more information about endowed scholarships at the University of Rochester, please contact the Office of Stewardship at (585) 276-3791.
To learn more about the George Eastman Circle, click here.
To learn more about supporting scholarships and other needs through the annual fund, click here.
To read more about how annual fund gifts make a difference in lives every day, click here.