Groundbreaking Held for The Flats at Brooks Crossing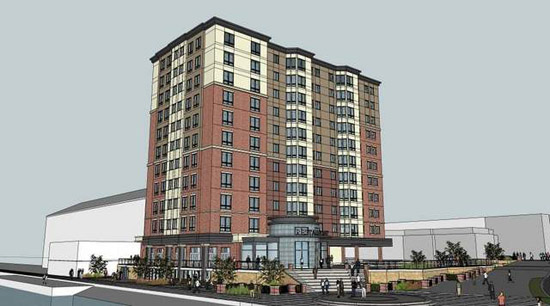 The University of Rochester will be the main tenant of The Flats at Brooks Crossing, a 12-story mixed-use project near the corner of Brooks Avenue and Genesee Street in the Brooks Landing area. University President Joel Seligman participated in the July 12 groundbreaking ceremony hosted by Rochester City Mayor Thomas S. Richards, with the $18.7 million development scheduled to be complete by fall 2014.
The Flats at Brooks Crossing is slated to feature 10 floors of housing accommodating 170 University students in approximately 70 units; a 2,000 square-foot common area; a lower-level scull boat house; a 5,000 square-foot restaurant on the first floor of the building; and a second, 4,000 square-foot, single-story building on Genesee Street.
The 19th Ward and Plymouth-Exchange neighborhood associations, along with the Sector 4 Community Development Corporation, have been very involved with the Brooks Landing planning process over the past 25 years and joined in the groundbreaking ceremony for the Flats at Brooks Crossing. Other participants included developer Ron Christenson, president of Christenson Corporation; City Council President Lovely A. Warren and council members Dana Miller and Loretta Scott; and Monroe County Executive Maggie Brooks.