Alumni Gazette
HOW TO
What Goes into a Commencement Address?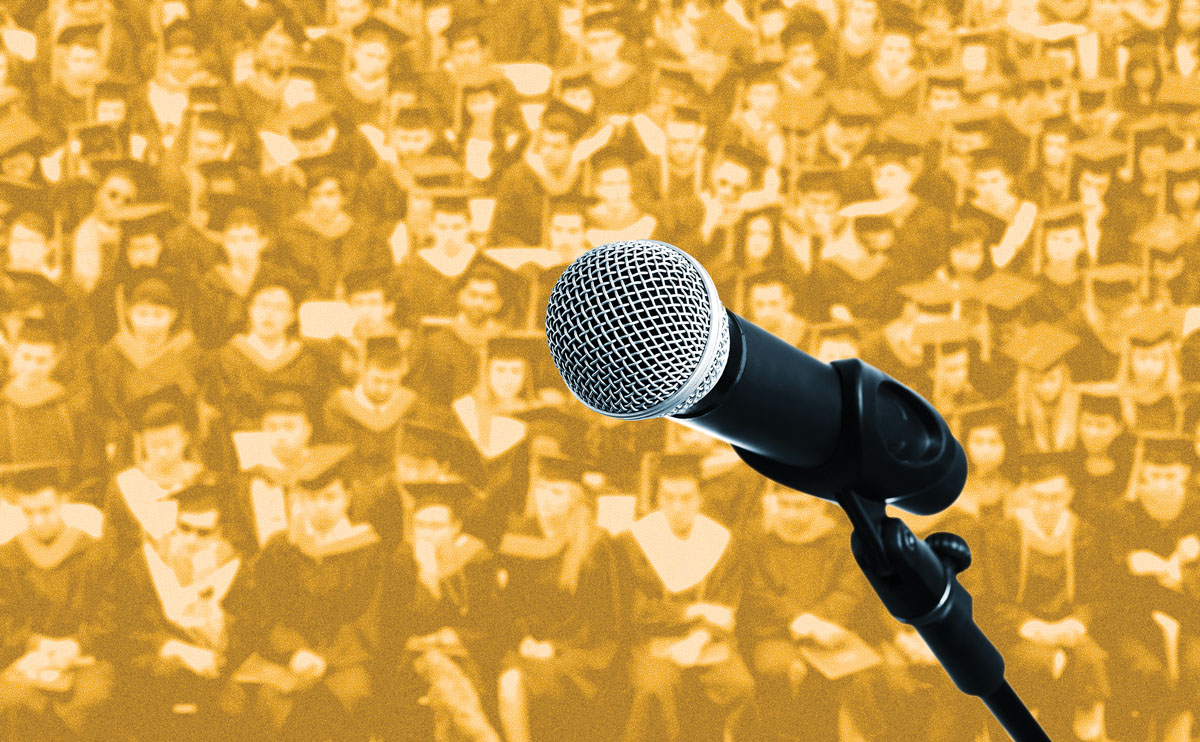 David Nash '81M (MD), the founding dean of Thomas Jefferson University's Jefferson College of Population Health in Philadelphia, was asked to give the commencement address last spring at Salus University. The Philadelphia-based school specializes in degree programs for health care professions.
A board-certified internist, Nash is internationally recognized for his work in public accountability for outcomes, physician leadership development, and quality of care improvement.
The Reaction
It was a real honor to be asked to give a commencement address outside Jefferson, and at first, I was elated. Then I put down the invitation letter and thought, "Oh my gosh, what am I going to do here?" I give about 50 speeches a year around the country, but it's much, much harder to write a great 12-minute talk than to give an hour-long presentation in front of 10,000 people at a business conference.
The Warning
The president of Salus said, "Please, please keep it to 12 minutes." He must've said that to me five times. He's a Navy guy and was like, "I am not kidding." So I internalized that message. My speech was 11 minutes.
The Preparation
I'm super organized, so I started thinking about what I was going to say six or seven months ahead of time. My Sunday afternoons are largely spent working, so this became part of my workflow.
It was also a lot of looking into the mirror and doing my thing. My wife is used to it, so it didn't cause any domestic disturbance. She would say, "There you go again."
The Advice
I had a Wharton School professor in the summer of 1984 who said to me, "If you're ever in a jam with a speech, here's a bulletproof recipe: point with pride, view with alarm, and end with hope."
And that's exactly what I did because you know the soufflé is going to rise every time.
For "point with pride," I congratulated the graduates, spouses, parents, and children, described what I thought Salus meant to the health care system, and said I was proud of them for joining us in the healing professions.
For "view with alarm," I described what I see as the challenges the nation faces; for example, medical mistakes are the third leading cause of death in the United States.
"End with hope" was relatively straightforward. I told the graduates they were coming into the field at an amazing time, a time when we have procedures that seemed like science fiction a few years ago.
I wanted very much to give them hope for the future.
The High Point
I assiduously tried to avoid any political criticism because I wanted the audience to focus on the message, not to be exposed to unnecessary controversy where none existed. But I did bring up that the current political situation is a war on poor people, and that got loud applause. And when you are standing up there, getting applause in the middle of the speech is a good thing.
The Background
I tried to pass along what Rochester taught me, which is to always examine the evidence and to question the status quo—powerful lessons for sure.
I didn't talk about almost flunking out of anatomy. I'd been an economics major at Vassar College and wasn't really prepared for all the silly memorization. I got what was called a "blue note" at the time, sort of a warning that I was in academic purgatory.
The Surprise
I had a little issue at the end. I started to tear up a bit, thinking about the future and thinking about my kids, so that was really hard. I had to use every trick in my public speaking book.
The Last Word
I told the graduates to be true to what they care about, and all the other good things will follow. It's corny but totally true. I said to put the patient at the center of everything they do. It's so easy to say and so incredibly hard to do.
That's true for Rochester, true for Jefferson, and true for Salus. There will be days when they don't like every patient they're seeing, and there will be days when a patient will take their breath away.
I gave them three decades' worth of reflection. I'm sure they were rolling their eyes, but I think they appreciated it.
—As told to Robin L. Flanigan