Class Notes
TRIBUTE
Joseph Cunningham '67 (MA): 'Essence of the Humanities'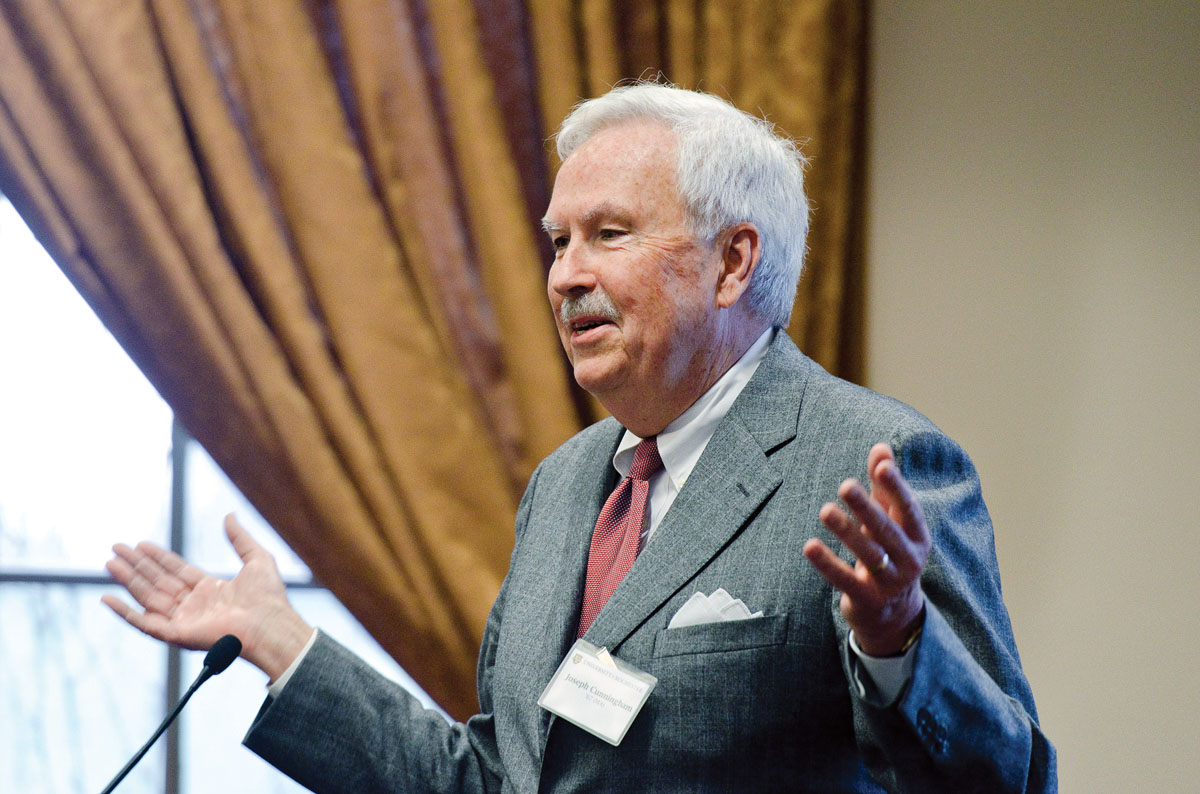 Joe Cunningham '67 (MA) believed in me. He believed as well in the importance of a liberal arts education, the achievements and promise of the University, and the need for humanistic perspectives in a democratic society. But it was his faith in me—in the merits of my scholarly work and my contributions as a faculty member—that I will carry as a personal memory.
I don't recall how Joe first came to ask for copies of my books, but he turned out to be my ideal reader: a person of keen intelligence and intellectual curiosity who grasped the issues I was trying to raise and told me so in lovely notes that epitomized his thoughtfulness. How remarkable that he took the time from his busy career to encourage and support me. He voiced the same enthusiasm when he hosted me at his beautiful home in Palm Springs so that I could share my ideas with local alumni.
Joe, who died last May, expressed lifelong interest in the study of history. After earning his law degree at Columbia and while waiting to be called to active duty in the military, he pursued a master's degree in history at Rochester. Throughout a career as a prominent Washington, D. C., attorney, he remembered the role that the University had played in his life and in 2011, he endowed a professorship in history, a position held by my colleague Robb Westbrook. In 2015, Joe received the University's Hutchison Medal and in 2016, an honorary degree, doctor of laws.
My relationship with Joe grew closer after I became the Gabrellian Director of the Humanities Center. Joe was deeply committed to the mission and aspirations of the center, which, fortunately, he was able to tour with me on his last visit to the campus. His generosity and that of his wife, Andrea, will have a tremendous impact on humanistic inquiry at Rochester, benefiting alike undergraduates, faculty members, and the Rochester community, all of which were important in Joe's outlook on the role of the University.
More than that, though, for me Joe will always personify the essence of what it means to be a humane individual. From where I stood, he exuded empathy, breadth of vision, aesthetic sensitivity, dedication to reasoned discourse, and, above all, kindness—the very qualities that the humanities teach us to cultivate.
I am glad to have had the chance to know him as a friend and will prize his memory as an inspiration.
—Joan Shelley Rubin
---
Rubin is the Ani and Mark Gabrellian Director of the Humanities Center at the University, where she also holds the title of Dexter Perkins Professor in History.